In this section, we show you how to bulk import contacts into CallHub. Below are the steps to follow.
Step 1: Create a CSV file of your contacts.
The contact and mobile numbers of international contacts should start with + and country code.



#ContactNumber,MobileNumber,LastName,FirstName,email ID,Country Code
5103457786,5012325534,Land,Thomas,,
5012325535,5012325535,LandElder,Thomas,thomas.elder@gmail.com,US

#if you want to add only mobile number,put mobileNumber in contactNumber also.
5012325576,5012325576,Land,Thomas Junior,,

#add international number, adding UK number
+2072410482,+2072410485,LandUK,Thomas,,UK


If you have data in an EXCEL file, you need to convert it in CSV(Comma Separated Values) format. You may refer to an article by clicking here for instructions.
File size should not exceed 20 MB
Step 2: Click on '+Import Contacts'

Step 3: From the dialog box, choose if you want to create a new contact list or want to append contacts to an existing contact list.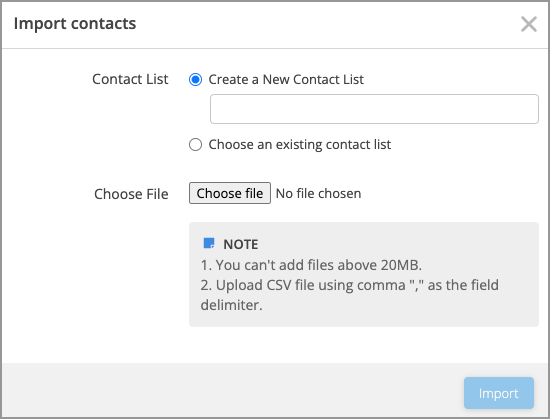 Step 4: Click the Import Button after selecting the CSV file.
The columns of the CSV file can now be mapped to appropriate field values. Select the appropriate field value for each column from the dropdown box at the top of the column.
Note: The contact number value is used for Voice campaigns and Call center campaigns, while the mobile number is used for Sms campaigns. To know about preparing contact list for SMS and Calling campaigns, refer to this article.
Step 5: Map Columns
Here, you need to map the columns from the dropdown with the values in your file.
Select the country of the numbers you are importing.
Click the "Import File" button to start the import process.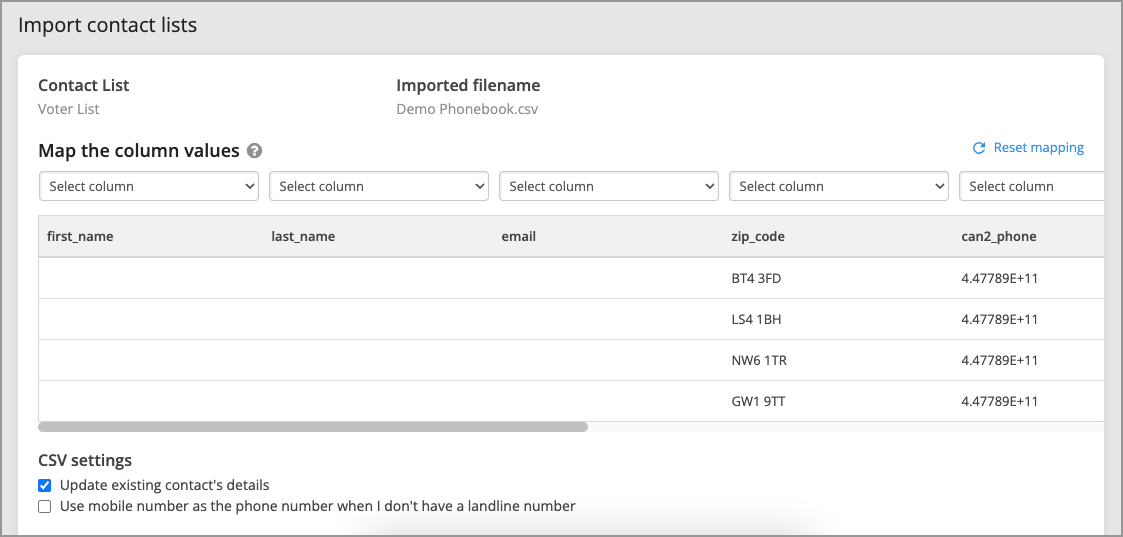 That is all, now you just need to wait for the import to complete. The system will send you an email once the import is completed. This email will have a summary of the import process.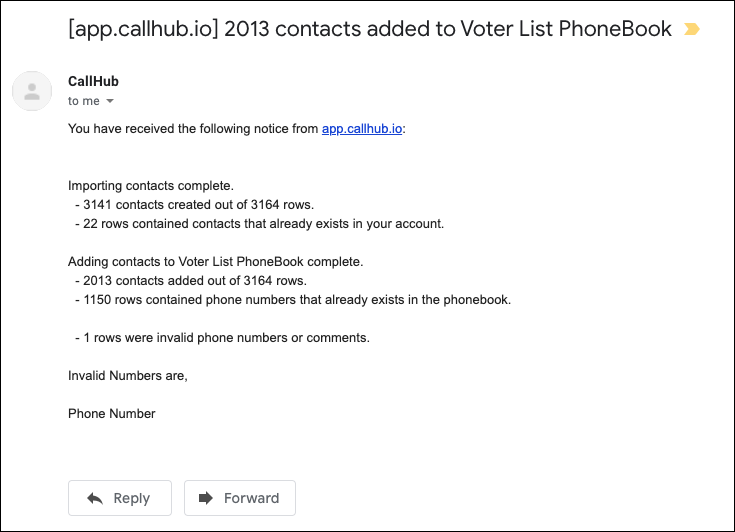 Note:

The system does not create duplicate records. In case you have multiple records with the same phone number and other details, that record will be skipped.
In case records with the same phone number and different details are found, they all will be added as household contacts.