About call center campaign.
CallHub's Call Center allows you to call your contacts with the help of your Agents.

Add surveys to your campaign and make sure details of every call is recorded and saved.
Steps to create a call center campaign.
Before creating a call center campaign, please ensure to add a phonebook and agents to your CallHub account. The phonebook is a list of contacts that you wish to call and agents are agents/volunteers who make the calls
1) Login to the CallHub account and click on "Create" for call center campaign.

2) Campaign Name - Add a suitable name for your campaign.

3) Script: In this section, you will be able to add a script/verbiage for your agents to use during their calls
Text:  Here you can add your call flow as in road map to how calls will be handled from the moment your agents get connected to the end of the call.

Questions: 

 While on the call, if agents are required to gather some information from the contacts, you can add suitable questions in the script to save this information in the form of Numeric, text or multi-choice responses.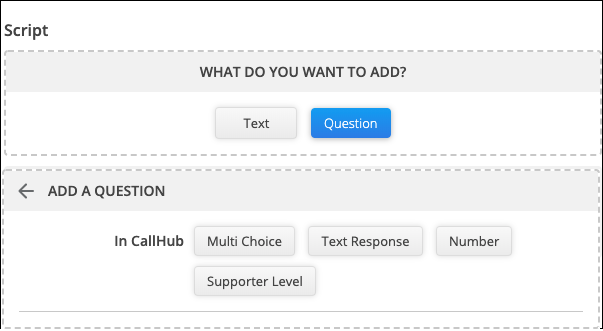 4) Dispositions: Disposition is a label that describes the outcome of a call. Based on the conversation the agent can label the call with the appropriate disposition. CallHub comes with a default set of dispositions that you can add to your campaign or if required, you can also create a custom disposition to suit your campaign.
Also, if you wish to retry calling contacts tagged under some of these dispositions, you can select the "Retry" option next to them and accordingly the contacts will be added back to the calling list again. You can also set up the number of retries and the time interval between retries.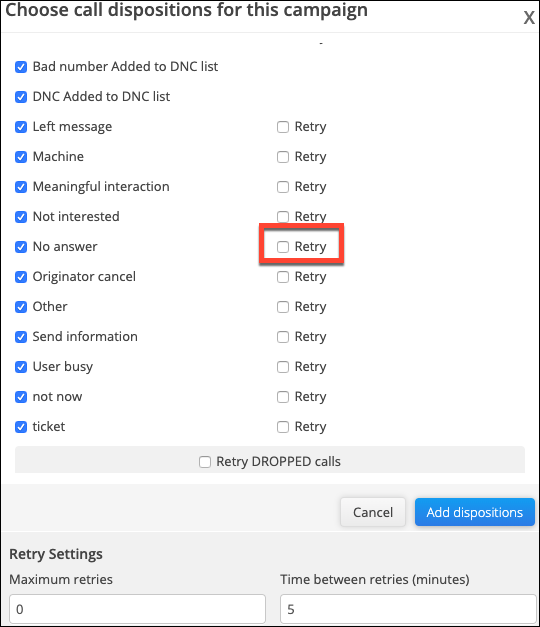 ---
5) Manual Text: The agent can send texts containing additional/important information related to the campaign during or after the call. If a cellphone number is not available for the contact, the agent can collect the number and send the details.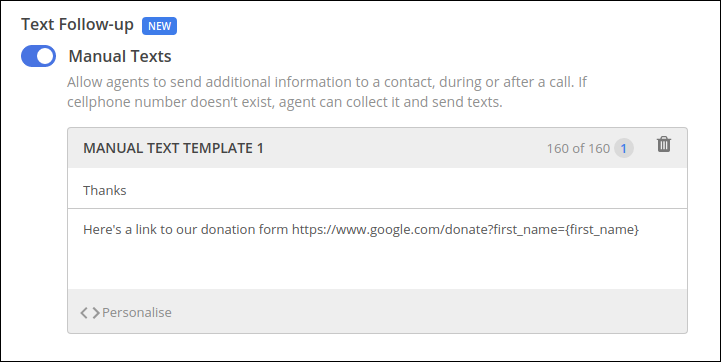 6) Automated Text: Automated messages will be sent to the contacts as a notification to let them know what they were called for. This can be enabled for specific dispositions.
You need to click on the Disposition section and select the dispositions for which you wish to send the automated texts.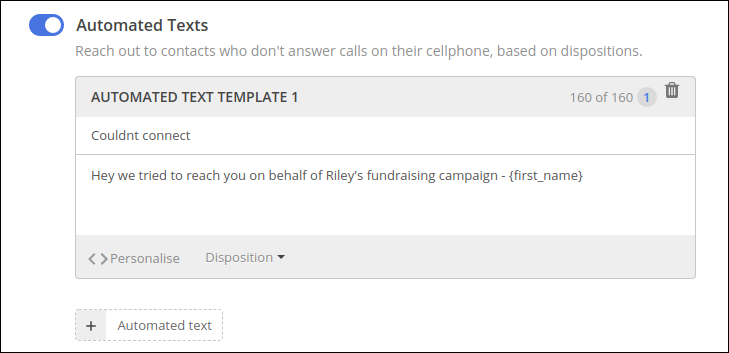 Click here for more details on how to set up Manual and Automated Texts for your Call Center campaigns.
---
7) Phonebook: Here, you can select the phonebook that you wish to target for this campaign. You can also select multiple phonebooks as well.



NOTE - Make sure to select the phonebook carefully as it could not be changed after creating the campaign.
8) Caller-ID: The caller-id is the number displayed to your contact when they receive the call.  You can select a caller-id which is already validated or you can validate a new number. 

Dynamic Caller ID:   You can use the Dynamic Caller ID feature to match caller ID to the region (state/capital/largest city) of the person called. People recognize the CallerID and are more inclined to pick up.



9) Patch-through Calling:   Through Patch-through calls, agents can connect contacts to key decision-makers. As a manager, you can select a list of patch-through numbers and assign them to a campaign. This allows agents to transfer or patch-through a call only to the selected list of numbers. Alternatively, the agent can type in any number and transfer the call to them.

10) Dialers: Choose the right call center dialer for your requirement to optimize outbound calls. Choosing the right dialer is key to get higher agent productivity and improved operational efficiency. CallHub offers 3 automated dialers,  ie. Power dialer, Autodialer, and Predictive dialer. 
Need help choosing the right dialer? Click this link.

11) Answering machine audio: Agents can save time by dropping a pre-recorded audio message if the call has reached answering machine.


NOTE: The "Drop voicemail" button has to be manually pressed by the agent to drop the voicemail after hearing the beep of the answering machine.
12) Assign agents: Here, you can choose to Assign All Agents, or Select Agents to add them to the campaign or skip the step to Assign agents later. You can also check our article on how to register an agent for a call center campaign from this link.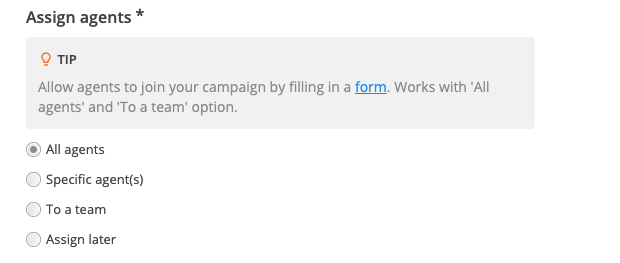 Note:  Assign All agents option will add any newly created agent to the campaign by default. So if you haven't created any agent accounts, you could go with this option.

 13) Agent Settings: This section involves the recording, notes and Call duration features.
Recording

- You can enable this feature if you want to record all calls.  You will be able to listen to the recordings anytime after the call, for monitoring. 

Notes

 

- Agents can add additional information that they have gathered in notes. By default, adding notes is mandatory, however, you can make it optional.

C

all Duration - You can set the max duration of the call here. Calls exceeding this limit will be disconnected automatically.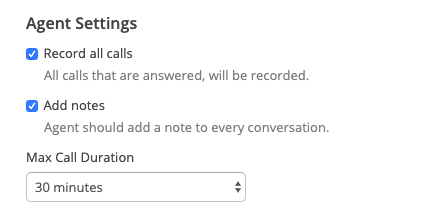 14) Schedule campaign: This is an important section of setting up a campaign. You need to set the START and FINISH date for your campaign, select Daily Operational hours and can also choose to run a campaign on weekdays or weekends or certain days of the week.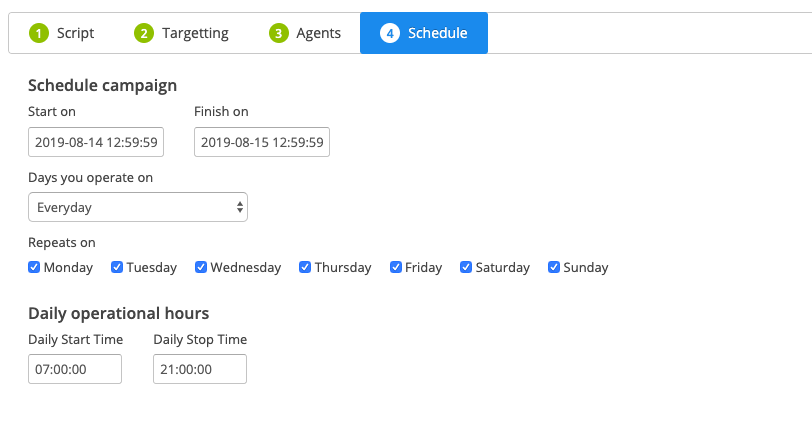 Note: Once the campaign is scheduled and you hit the "Finish" button, the campaign will go to pause state by default and you can start the campaign when the agents are ready.