Measure success and determine success metrics by studying call center reports. Here's all the data CallHub provides during your campaigns.
Call Center campaign allows you to have one-on-one conversations with your contacts with the help of your agents/volunteers. Once your campaign is finished you would like to look at the reports. You can get the current campaign results from the campaign's result tab and detailed calls from call reports.
Campaign results:
You can view these results under the "Result" tab. You may filter the results of the campaign on various aspects like Date range, Agent name, Specific Tag or a Question which was asked during the call followed by an answer. This section also shows you the Average talk time and connection time.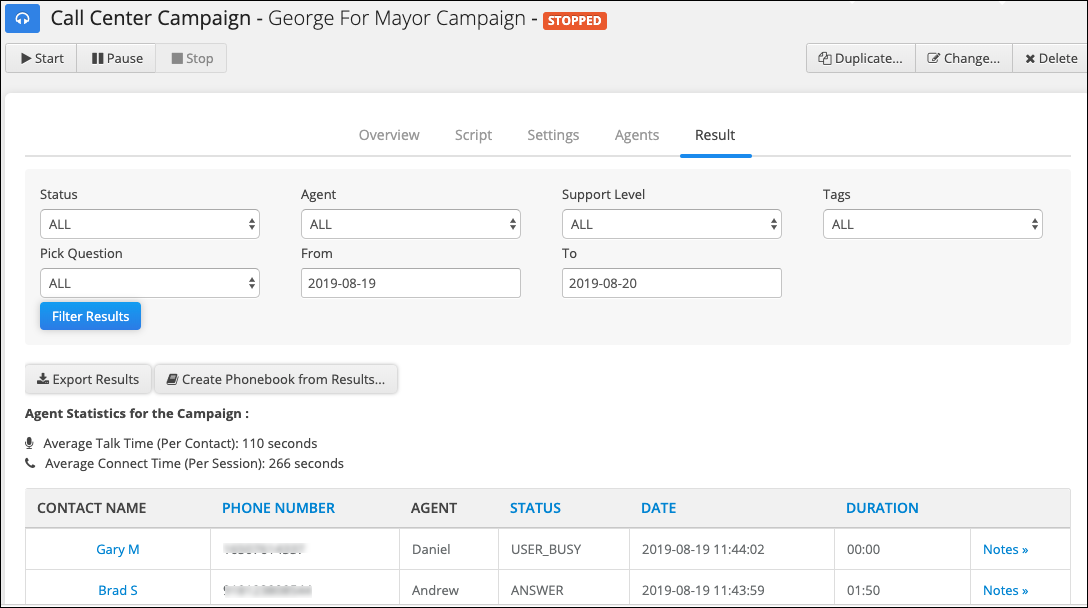 Default fields show details on Contact's Name, Phone Number, Status of the call, Date and time of call and duration. For additional details you may click on Notes. Notes show you details on contact, Questions asked and their answers, disposition selected by agent and notes.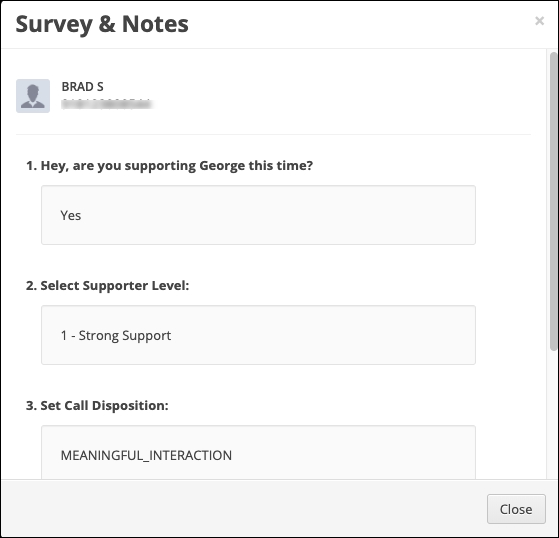 After filtering the results you have an option to either export the results in CSV format or to create a phonebook from the results. Creating a phonebook is useful if you wish to run a campaign for filtered contacts.
The exported report will have details on the campaign's name, contact's email, address, city, state, zip code, company name, phone number, caller id, agent, status, date and time of call, call recording link, duration(seconds), billed duration(seconds), custom fields, answers to questions asked, supporter level, disposition, and notes.
Call Reports:
You can get the detailed call records for calls made from the current campaign from Reports > Call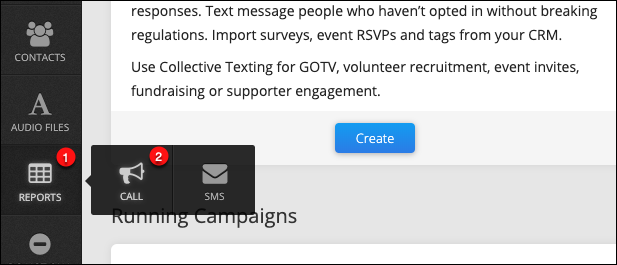 Here, you need to select a time range and campaign name from the dropdown.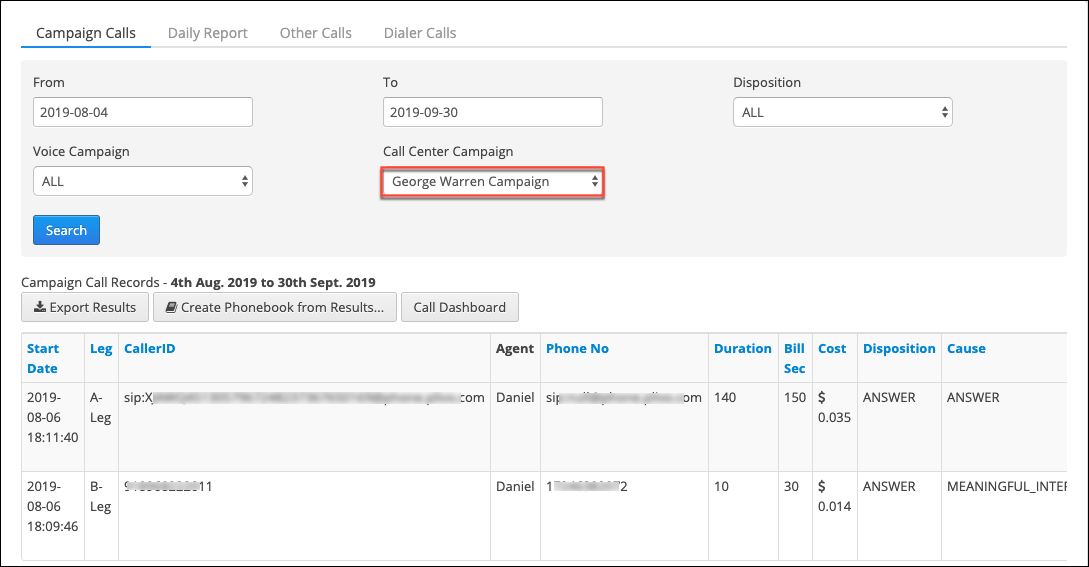 The above report has the following details:
Start Date:

Date and Time of the call

Leg:

This column shows you the connection type.

A-Leg

is the agent's connection. Click here to know more.

B-Leg

is for calls made to contacts.

S-Leg

is the patch through calls.

CallerID:

CallerID of the campaign from which this call is made to the contact.

Agent:

Agent who was on a call with the contact.

Phone number:

Contact's phone number where the call was made.

Duration:

Duration of the call in seconds.

Bill Sec:

Call duration billed in seconds.


Note: Calls are charged for a 60-second increment

Cost:

Cost of the call.

Disposition:

Disposition is a label that describes the outcome of a call.

Cause:

It shows the disposition selected by the agent on the call.

AMD status:

Answering machine Detection(AMD) status shows if the call is picked by a person or a machine.

Call ID:

This is a unique ID generated by the telecom carrier to identify the call. You can send us this ID if you are reporting an issue with a particular call.
You may also choose to export the results or to create a phonebook from the filtered results from this page. If you choose to export the results, you will get details on, account's email address, Call ID, Caller ID, agent's name, phone number, date and time of call, duration of call(seconds), billed seconds, Cost(cents), disposition, cause, and AMD status.
The CallHub support team is always on their toes to help! If it is still off base to your search, please submit your ask at our Create a Ticket page. Happy calling with CallHub Mobile App Android | iOS
Don't have a CallHub account yet? Get a free one now along with $3 credits to test out.