In this article, we will discuss step-by-step procedures to Export and delete contacts from your CallHub dashboard.
Export contacts
Step 1: Navigate to 'Phonebook' in the sidebar.
Step 2: Select the phonebook you need to export.
Step 3: Go to the 'Contacts' tab.
Step 4: The option 'Export Phone numbers' will help you export all the contact numbers from the phonebook to a CSV file. This option will export only the 'Contact Number' of the contacts. To export the contacts' data from the phonebooks into a CSV file, click on the option 'Export Phonebook'.

Delete contacts from phonebook
In this section, we show how to delete contacts from a phonebook.
Step 1: Go to 'Phonebooks' in the sidebar.
Step 2: Click on 'Delete Contacts' in the menu shown.
Step 3: Upload a CSV file containing the list of contact numbers you want to delete. Upload the file in the below format. Note that '+' and country codes are not required in the contact number.
Step 4: Select the country for the contacts. All the contacts to be deleted must belong to the same country.
Step 5: Click on "Delete Contacts"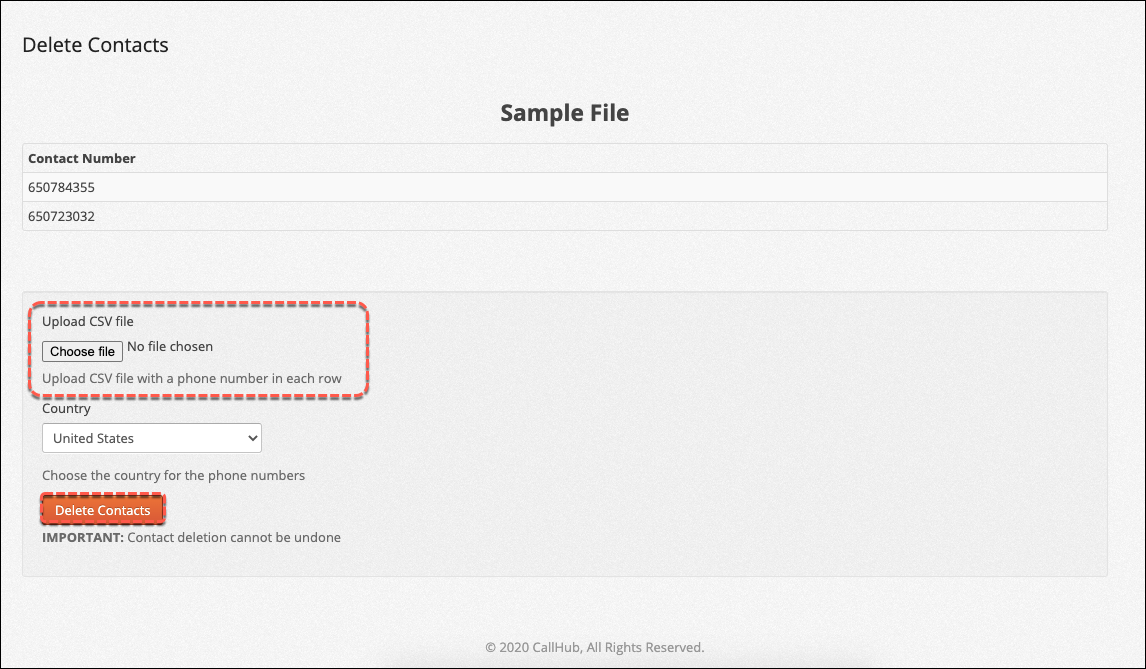 The CallHub support team is always on their toes to help! If it is still off base to your search, please submit your ask at our Create a Ticket page. Happy calling with CallHub Mobile App Android | iOS
Don't have a CallHub account yet? Get a free one now along with $3 credits to test out.