What is the maximum length of an SMS?
In Text Broadcasting and Peer to Peer texting campaigns, the character limit for a single text message is 160 GSM/ASCII characters or 70 Unicode characters. Messages longer than 160 (GSM)characters are split into multiple message segments, each segment consisting of 153 characters and maximum limit is 1600. In the case of Unicode characters, the messages longer than 70 characters are split into segments of 67 characters that have a maximum limit of 737 characters.

Multi-segment messages are automatically stitched back together and delivered as a single message in countries where mobile networks support long message concatenation.
Note: In the case of the GSM network, multiple segments show as 1 message to the recipient, whereas segments could be out of order(jumbled) in case of the CDMA network.
How to check the message segment/length in CallHub?
While creating a campaign, you can type in your message under Script. CallHub will show the number of characters remaining while you type. When you cross the 1 SMS limit, the system will show the number of characters and message segments.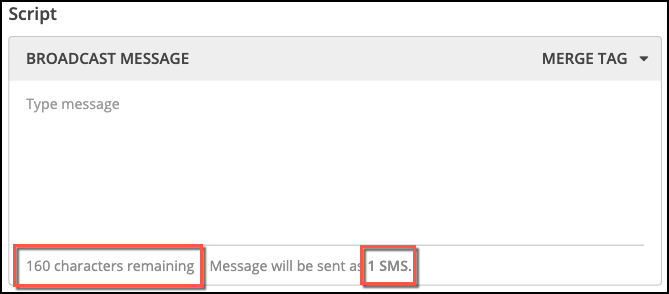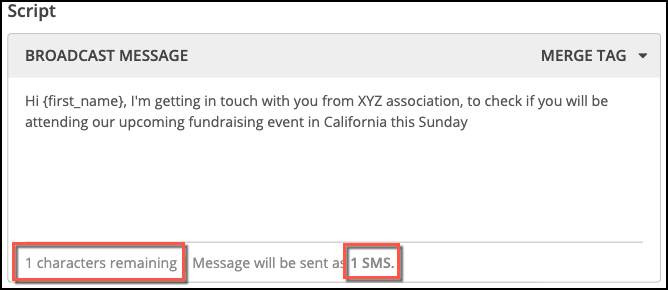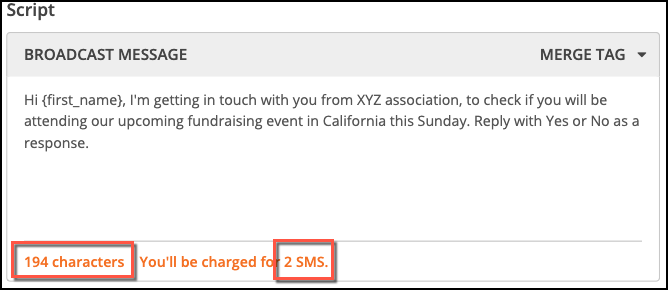 Similarly, if you have any Unicode character in your message, the message's character limit will be reduced to 70 and the system will display the character(s) below, so you can edit the message if required.
Example for Unicode characters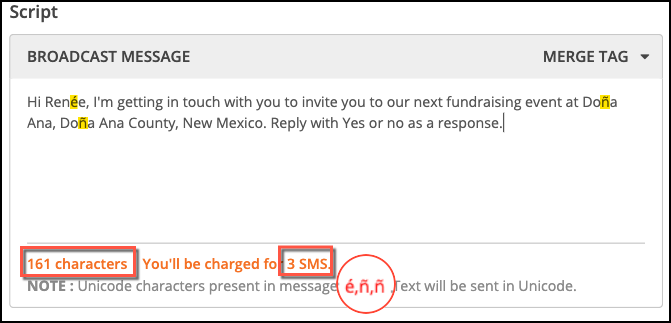 What will be the cost of sending a message?
The total cost of a message is calculated based on the number of segments sent in a message. For example, if there are three (3) segments in a message, the message will be sent as three (3) messages. The cost for sending 1 SMS segment in the US is charged at $0.034, so the cost for sending a message with (3) message segments will be charged at $0.034 * 3 = $0.102.