All you need to know to create a text broadcasting campaign on CallHub. We cover everything from targeting, scripts, sender ID, and responses.
Text broadcasting Campaign(SMS Blast or Text Blast) allows you to send messages in bulk to your contacts and set up keywords to respond automatically to incoming messages. You can also personalize your message for each contact using merge tags for your texts.
Create SMS Broadcasting Campaign -
Targeting -
Click on the "Create" button from your dashboard under "Text Broadcast." We have added a mobile view to understand what the message would look like when you send the messages to your contacts.

Setting up the campaign begins with naming the campaign. Post this; you need to add a contact list with a list of contacts with Mobile Numbers.
Note: You can add multiple contact lists while creating the campaign.
Numbers refer to the phone number that your contacts will see when you send messages. You have two options while setting up Caller ID, Automatically Rent a Number or Validated and previously rented number.
Automatically Rent a Number:

With this selection, you can choose the country you want to rent the number for sending out messages through your campaign.

Validated and previously rented number

: You have the option to use existing numbers for your account by choosing the current number from the dropdown.

Note:

Please note that if the rented number does not show in the dropdown, it means that you have a campaign running with the same number. It would be best to stop the campaign first before you can reuse the same number (previously rented number).
Shortcode is typically a 5-6 digit number like a telephone number but designed to send and receive text messages. It allows you to send messages at 100 messages per sec and can be used for event invites and donation links to OPT-IN users.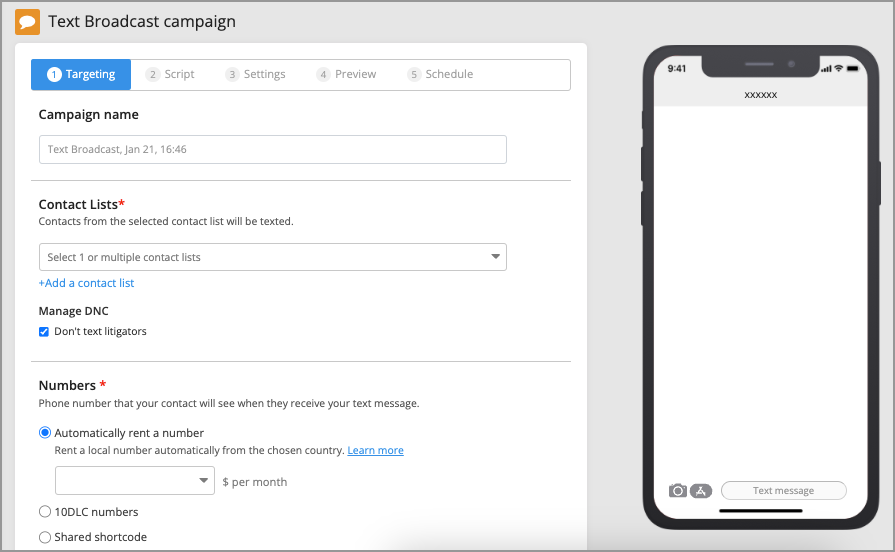 Sender ID allows you to set an Alphanumeric ID as the Caller ID for the messages you broadcast. You can select your company name or brand as the Sender ID when sending one-way SMS messages.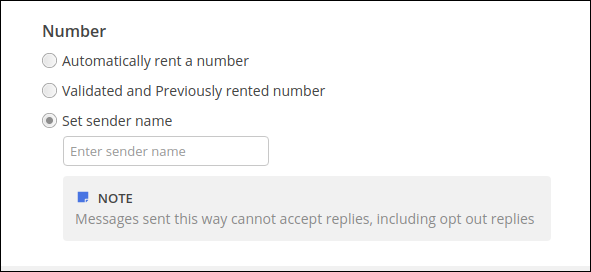 Note: By default, Sender ID is available in limited countries. Please contact Support to check if your country supports Sender IDs.
Script -
You may enter your message and personalize them using merge tags. Personalized messages get higher response rates and engagement. Click on the Merge tag option to find the list of tags available for the campaign. You can know more about merge tags here.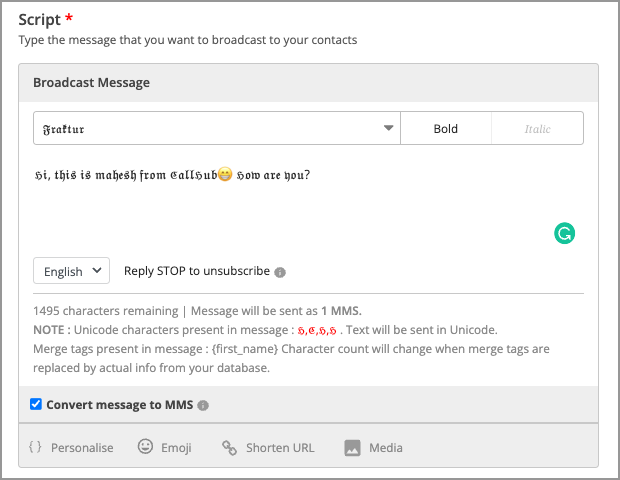 Font Styles and Text formatting - You can use different 𝔽𝕠𝕟𝕥 𝕤𝕥𝕪𝕝𝕖𝕤, bold or italics, while sending messages to your contacts. Apart from this, you can increase your engagement with your audience using emojis to make it more friendly and personalized.
If you wish to use font styling in your SMS campaigns, check the "Convert message to MMS" option to ensure you are not charged for multiple segments. You will be charged for 1 MMS after enabling this option. Incoming messages will be charged based on standard SMS and MMS rates.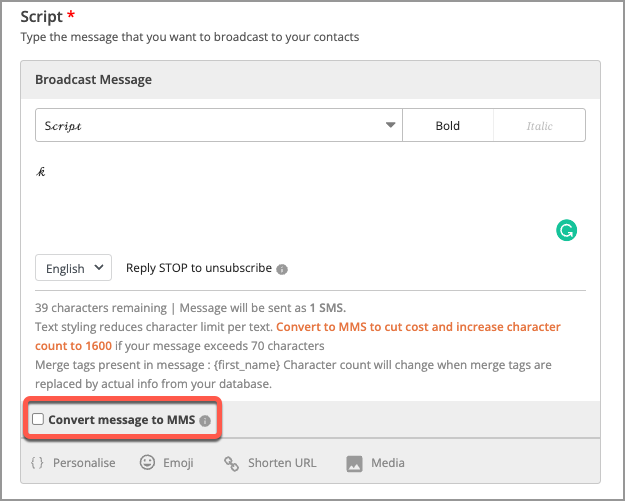 Please note that the Standard SMS contains at most 160 ASCII characters or 70 Unicode characters. If you exceed the limit, you will be charged for 2 SMS.
Add Automated Replies for Keyword responses:
You can send automated responses based on specific keywords. You can achieve this by enabling the "Automated Replies" and entering the keyword and the response.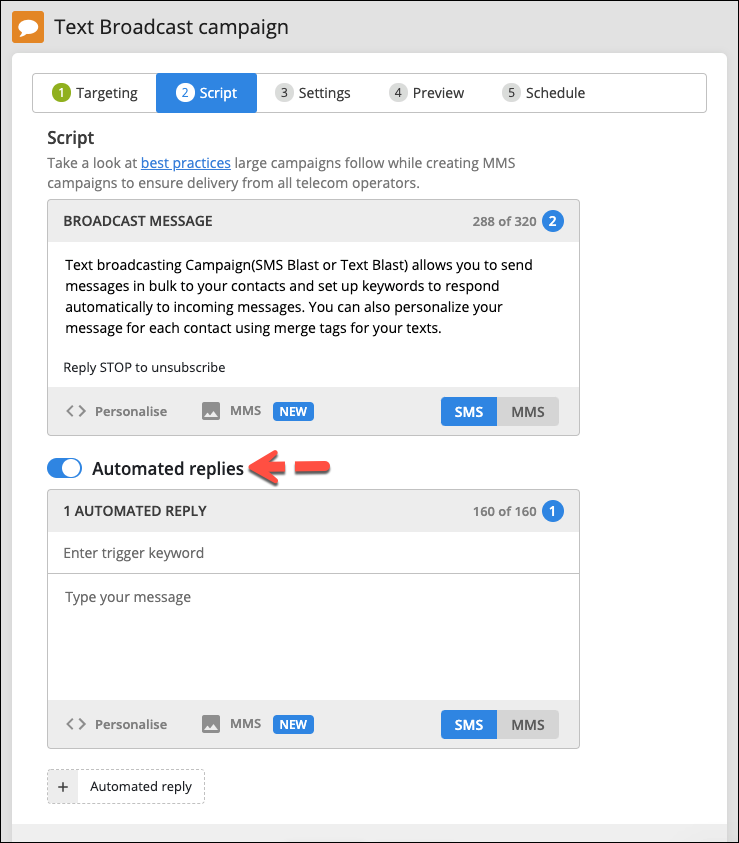 Settings -
Email Replies:

This refers to the email address to which you want the system to send the email notification of all responses you have received in the campaign. Note: you cannot reply to the emails' messages; you need to log in to the dashboard to reply.

Max Retries:

You can

set up retries per contact for failed/unsent messages. Messages can fail if the contact is not reachable when the message is tried.

Time Between Retries:

this refers to the time delay in seconds before the message gets retried to the contact.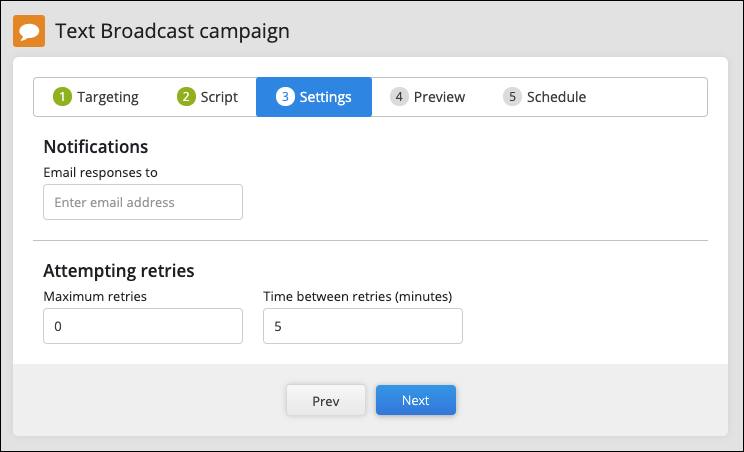 Preview -
This section shows what the campaign settings look like for you once you have set them up.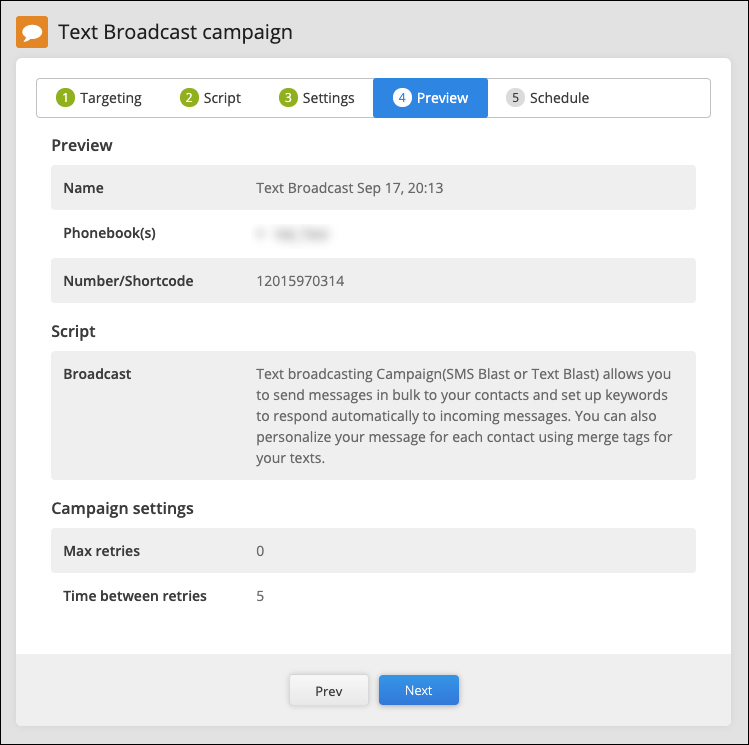 Campaign Schedule -
In this section, you can set up a schedule for the campaign. Set up the Start and Finish date, the days on which the campaign will be operational, and the daily operating hours.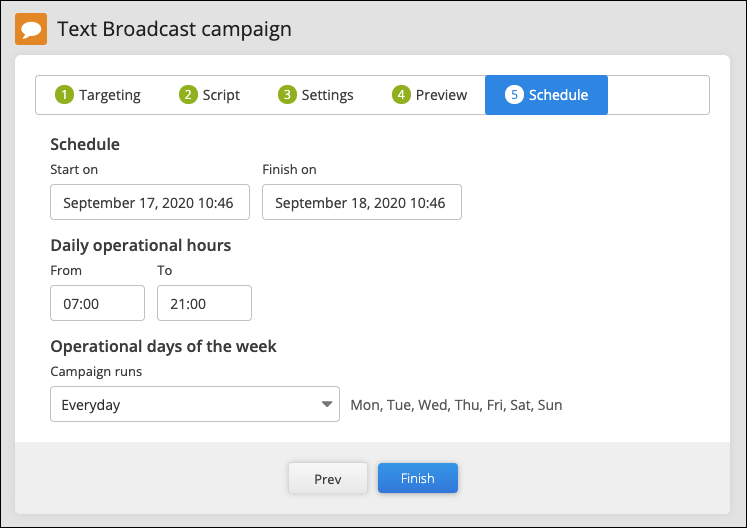 Note:

 You can edit the operational days and operational hours as per your requirement.
Incoming Responses to Text Broadcast Campaign -
In a Text Broadcast Campaign, you may manually respond to messages as an admin of the CallHub account. If you wish to reply to the user, you will need to log into your account, navigate to Campaigns > Choose the campaign > Responses > Choose the contact, and click on the chat.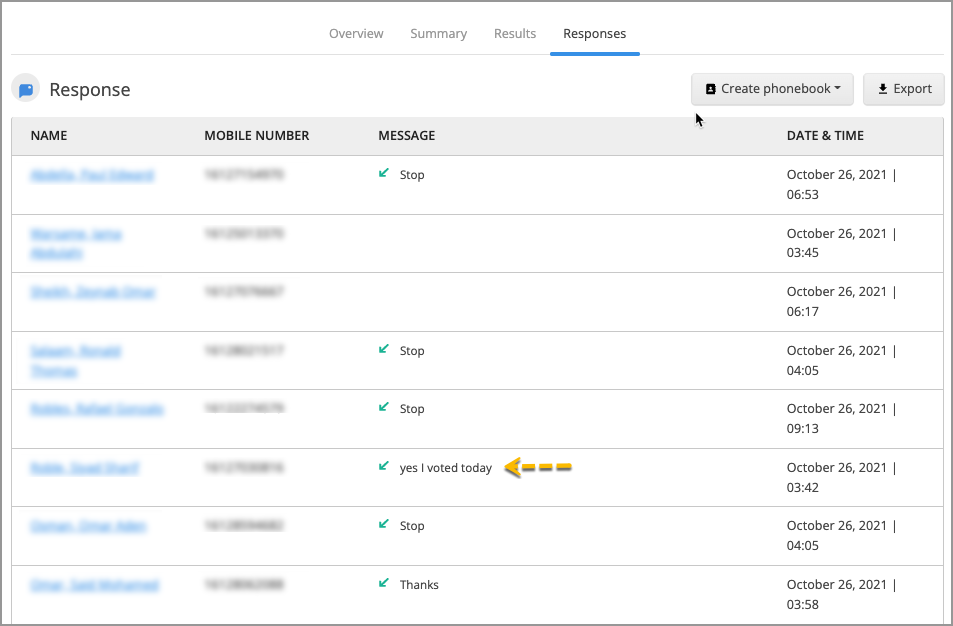 Here, the window will expand, and you will get a text editor to type your response. You may enter your response and click on "Reply" to respond to the contact.