Multimedia Messaging Service

is also known as "picture messaging," and offers a lot of advantages over text messages. This includes sending messages in the form of images, GIFs, or PDFs. MMS broadcast feature allows you to send messages in bulk to your contacts. Click here to know more about the formats that are supported while sending MMS on CallHub.
Before you start sending MMS, ensure that you have uploaded the
media/ file

that you wish to send. If not, follow the below steps:

Step 1: Navigate to the media section and click on upload. This will allow you to select a file from your device that you wish to broadcast through your campaign.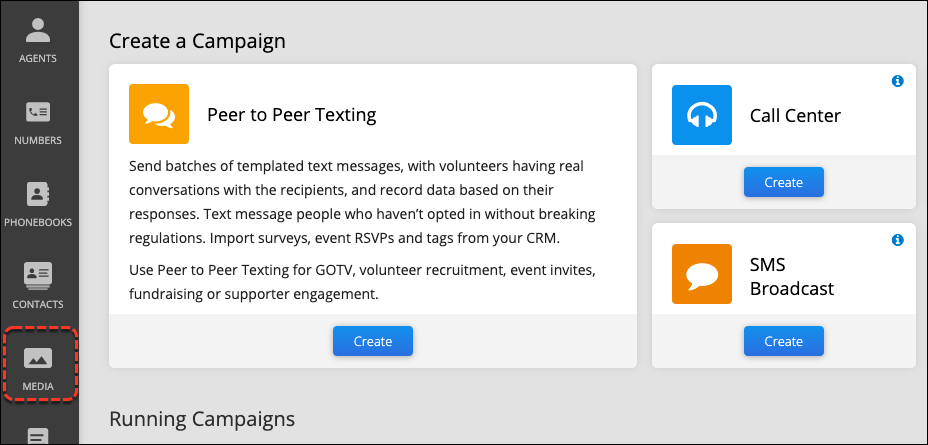 Step 2: Once the file is uploaded to your CallHub dashboard, you may click on SMS broadcasting to create a campaign. Here you need to enter a name for your campaign and select a phonebook. Click here to know how to import contacts.

Step 3: You may select the MMS option in the script section to choose the file you have uploaded.
You also have the option to include a text message along with the MMS.




Step 4: The following sections in settings can be filled accordingly.

Email Replies:
This refers to the email address to which you want the system to send the email notification of all responses you have received in the campaign.
Note: You cannot reply to the messages from the email, you need to login to the dashboard and navigate to the campaign to reply to the message.

Max Retries: This option gives you the ability to set up retries per contact for failed/unsent messages. Messages can get failed if the contact is not reachable at the time the message was tried.

Time Between Retries: This refers to the time delay in seconds before the message gets retried to the contact.


Step 5: In this step, you need to schedule the campaign by selecting the start and the finish date with the operational days and operational hours.



Note: MMS is supported only in the US and Canada. Click here to get the list of carriers that currently support MMS.



The CallHub support team is always on their toes to help! If it is still off base to your search, please submit your ask at our Create a Ticket page. Happy calling with CallHub Mobile App Android | iOS
Don't have a CallHub account yet? Get a free one now along with $3 credits to test out.