Connect your Action Network account to CallHub to sync data for calling or texting campaigns. Here's how to integrate with Action Network.
Connect to Action Network
Login to CallHub from Login. Once logged in, click on Integrations; you'll find it in the menu at the top of your page. You should be able to view the Action Network. You could also browse to the Integrations page directly.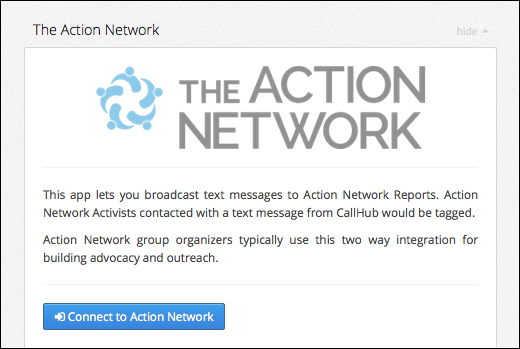 Click on 'Connect to Action Network.' You will be prompted for Action Network API Key and the Action Network Group Name like in the screen below. Enter the details and click Connect. Don't know how to get the API Key? Look at the next step.

To get the API Key, you need to follow the below steps.
Login to your Action Network Account
Click on 'Start Organizing,' and navigate to 'Details'
Click on 'API & Sync,' choose your group, and you should be able to see your API Key.
If you don't have one, you can click on 'Generate New Key' and generate a new key here.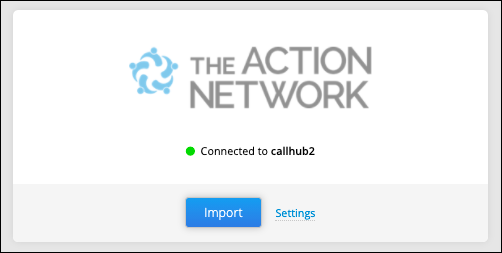 Import Reports, Events, and Tags from Action Network
Once connected to Action Network, you can click on 'Import Settings.' This will take you to the Settings page like in the screenshot below: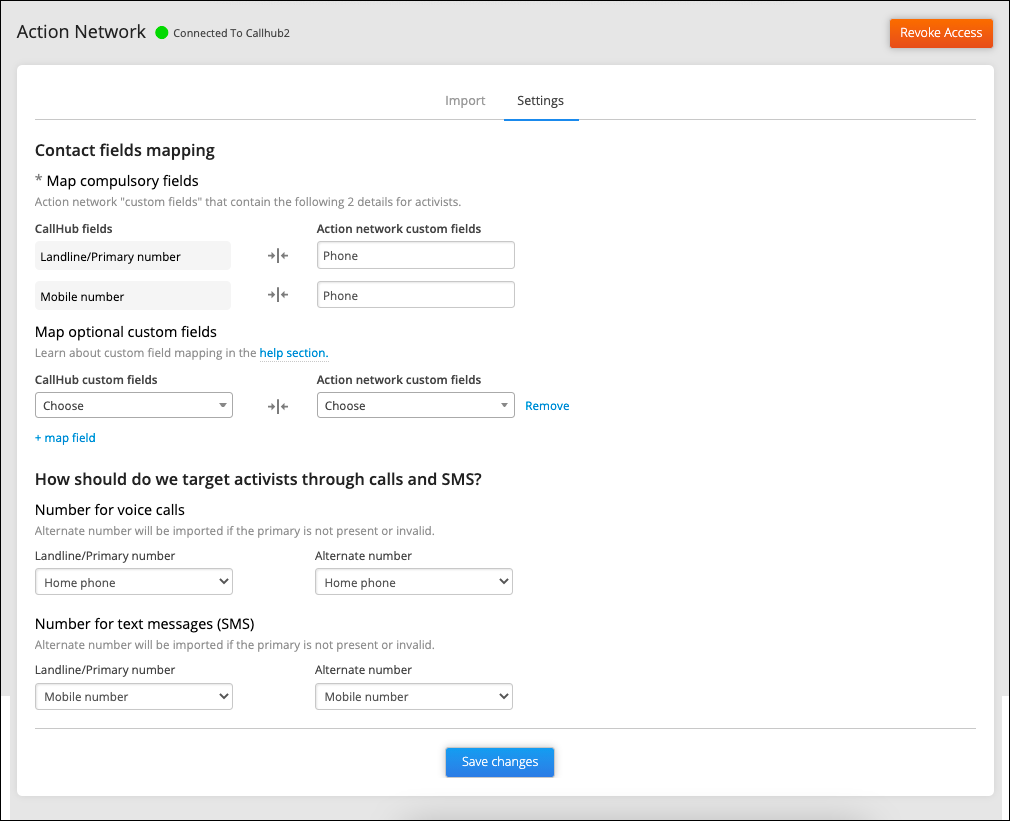 Custom Fields for Activists: These are Action Network custom fields for a contact. For instance, if your activist record contains a phone number in the custom field 'Phone' and includes a mobile number in the custom field 'Mobile,' then you need to enter the keys of the custom fields here.
How CallHub should target activists for Voice and SMS Campaigns - By default CallHub will use the Home Number as the Primary Number for Voice Campaigns and Mobile Number as the Primary Number for SMS Campaigns. If your Activist data doesn't contain a Phone Number, then the Mobile Number could be used for Voice Campaign. Note: Please consider legal obligations in your countries on using mobile numbers for Voice Campaigns. Once you have configured the import settings, click on Save to retain them.
You can now click on 'Import.' This will fetch all the reports, events, and tags that you have created from your account. If you're doing this operation for the first time, please wait while the import is complete.

Once the import is successful, the system will redirect you to the reports screen in the screenshot below. Here you can search for any of your reports. Also, if you make any changes to your Action Network account (like created or deleted reports), you can sync your changes with CallHub by clicking on 'Sync.'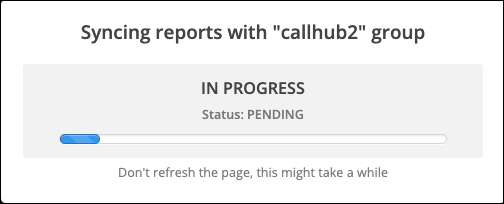 Select a report of your choice and click on 'Import Selected.' This operation will take a few minutes, and you should receive an email in your inbox once the import is complete.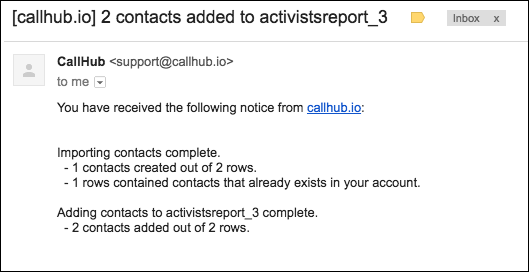 A new contact list gets created with the same name as your report, and the activists will be added to this contact list as CallHub contacts.

Bidirectional Action Network Integration with CallHub Campaigns
CallHub integrates with Action Network in a bidirectional way. All the Action Network Activists that are contacted through CallHub's text messages or the Activists that respond CallHub's campaign through a text message can be tagged in Action Network. Likewise, all activists called through a voice broadcast or call center will also be tagged in Action Network.
Set tags for Text broadcast campaigns
When you create a Text Broadcast Campaign, you can set tags for when the message is sent and a different one for when the contact responds. Choose the appropriate Action Network tags when creating the campaigns. In this example, when an SMS is sent to an Action Network Activist, they are tagged in Action Network as 'activists, and when they respond to CallHub's text message, they will be tagged in Action Network as 'tag.'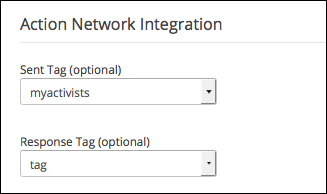 Set tags for Voice Broadcast campaigns
Set the Action Network tag for an activist contacted through Voice Broadcasting in the settings of the campaign creation section.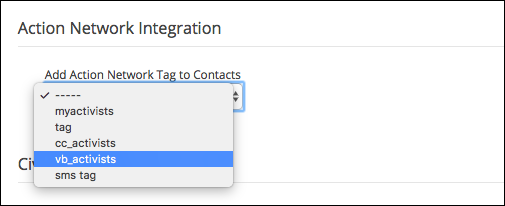 Set tags for Call Center campaigns
Similar to voice broadcast campaigns, set the Action Network tag for every activist that is contacted through a Call Center campaign in CallHub.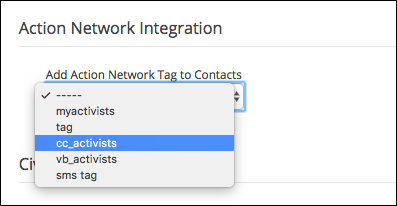 Add event to Call Center campaign.
During call center campaigns, a volunteer can RSVP as an activist for an Action Network event. In the call center campaign settings, you can add an imported Action Network event.