URL Short link and Click-through tracking reports can be generated from the "Shorten URL" section or the "Responses" section on the CallHub dashboard. This data gives you more info on the campaign's success rate or, rather, conversion rate.
Note: CallHub assumes the conversion rate of the campaign based on the number of clicks.
Click-Through Rate
The conversion rate is often calculated as the ratio of the number of unique clicks in a campaign to the total number of clicks in the campaign. This is termed as Click-Through rate(CTR).
Generating CTR Reports
You may navigate to the "Shorten URL" tab on the left preview pane to find the results of all the URLs sent through the campaigns.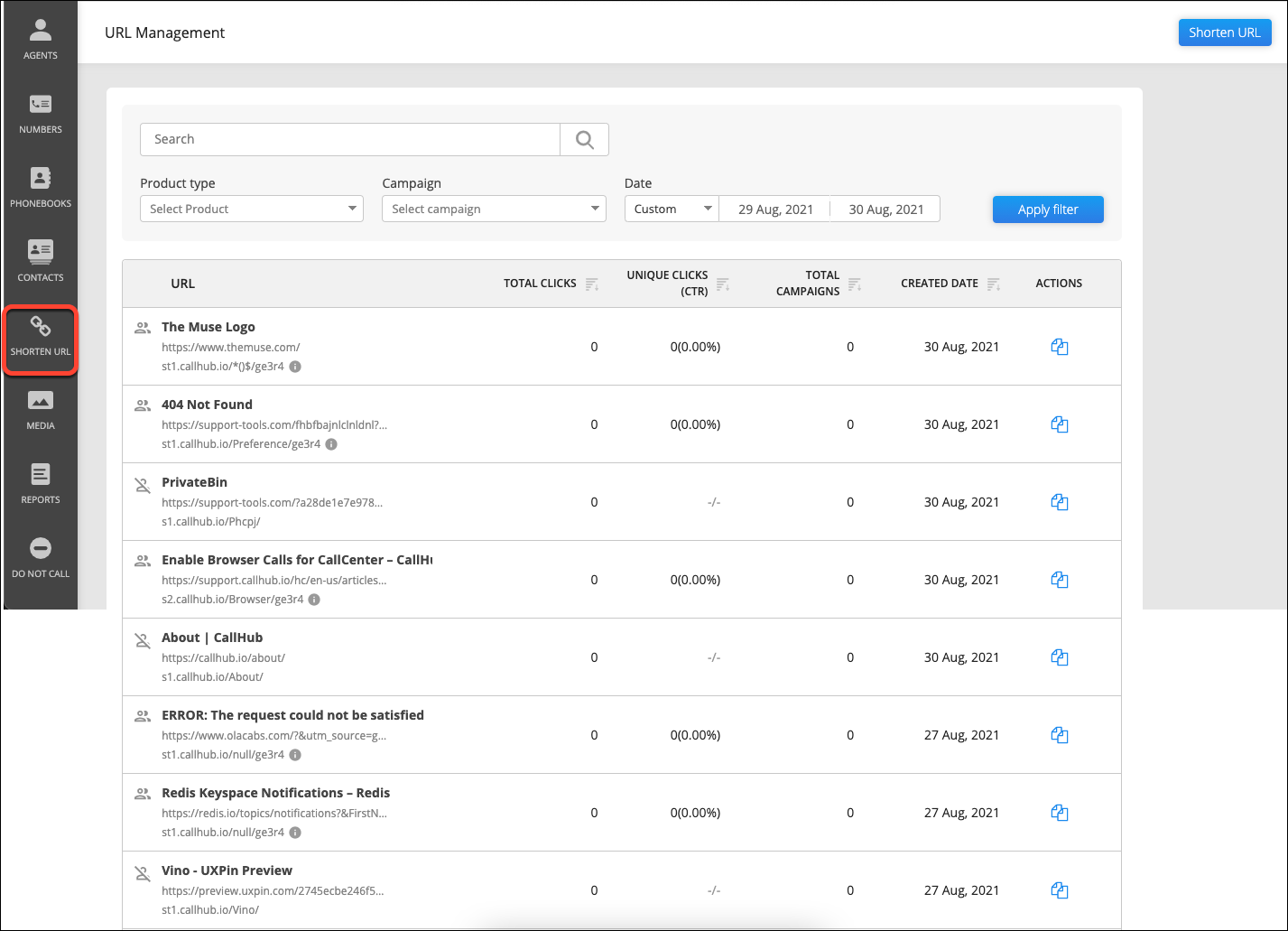 Total Clicks: The total number of clicks achieved for a URL in the campaign.
Unique Clicks: The number of times, the URL was opened by individual users.
Total Campaigns: The number of campaigns in which the URL is used.
If you wish to generate results on your dashboard based on a specific URL, a specific time period, or a campaign type, you may use the Filters and click on Apply Filter to Filter the results. You may also click on a specific URL to get the insights based on individual reports.

Campaign Overview Statistics
URL tracking reports can also be obtained from the Overview Statistics under the Campaign URL(s) statistics section. You may click on View Responses to view the replies from your contacts for the URLs sent from the campaign.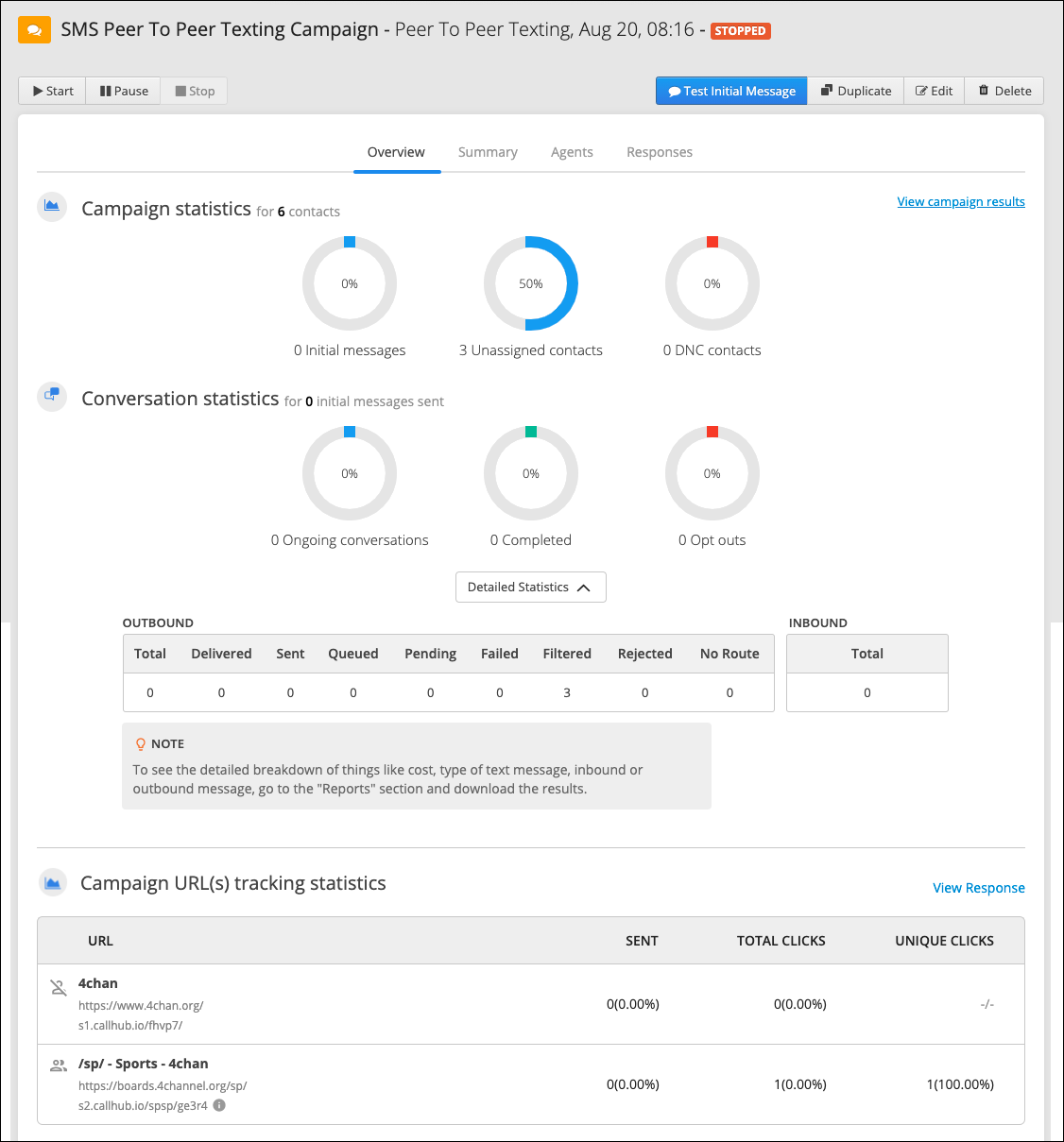 From the "View Responses" section, you can choose a specific URL and generate a count for the number of contacts who clicked on that URL, who didn't click on the URL. Based on these results, you may create a contact list to run a follow-up campaign or remove the contacts from your account.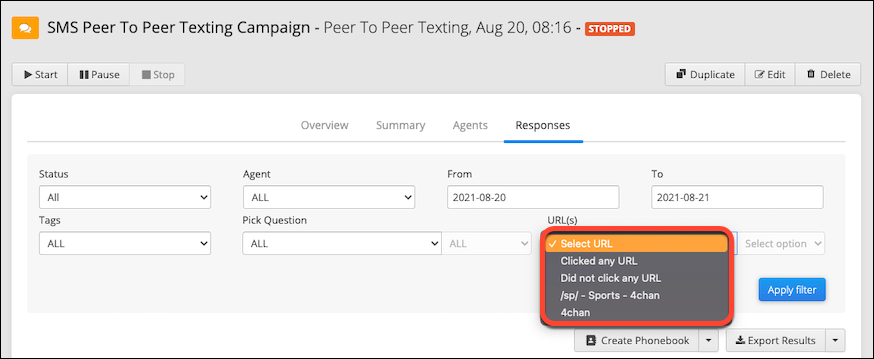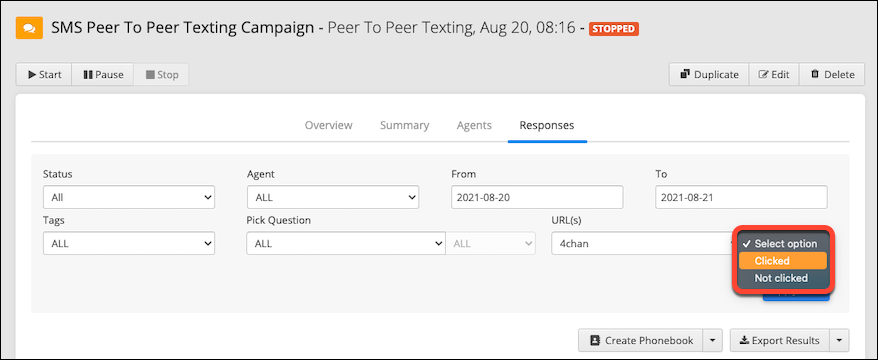 Once you have selected "Clicked" or "Not clicked" you may select "Apply Filter" and Export the results or Create a contact list based on the filter. [select the dropdown for either of these options]
Note:
A: The icon with a slash across indicates the Shortened URL is not tracking enabled.
B: The icon indicates the Shortened URL is tracking enabled.