With the Follow-up Texting feature, the agents can follow up with the contacts over a text message or send a message manually with more details on the reason for the call.
Add Message Templates
During the Call Center campaign creation, you get two options under the Text Follow-up section.
Manual Texts
Automated Texts
Manual Texts
You can enable the Manual Texts setting to add predefined message template(s) that your Agents can send to contacts manually during the call.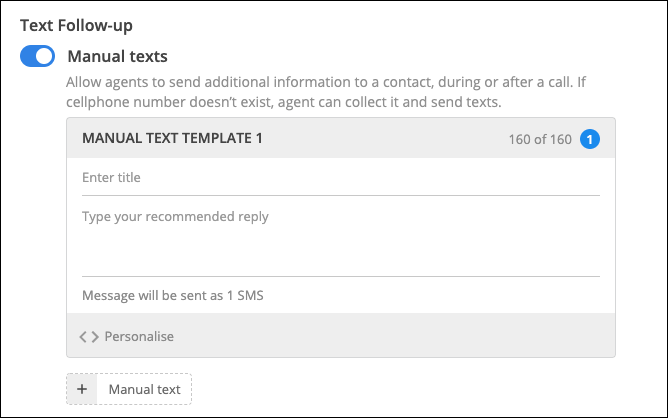 Automated Texts
Automated texts are sent to the contact automatically based on the disposition selected by the agent. If you wish to inform your contacts regarding the reason for a call in case of an unanswered call, you may select NO_ANSWER as a disposition to trigger automated messages. This way, you strike up a conversation with the contact, and they are more likely to pick up your call on the next attempt.
You need to enable the Automated Texts setting to add your message and link it with the disposition from the "Disposition" dropdown.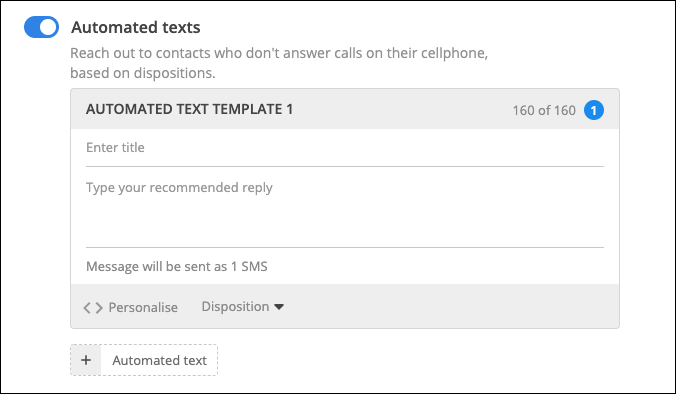 After the Follow-up texting is set up on a Call Center campaign, the agents can tap on the text icon on the Mobile App to send messages manually to the contacts. This applies only to Manual Follow-up texting.
In the case of Automated Follow-up texting, the system will automatically send a message based on the disposition you have selected as a trigger.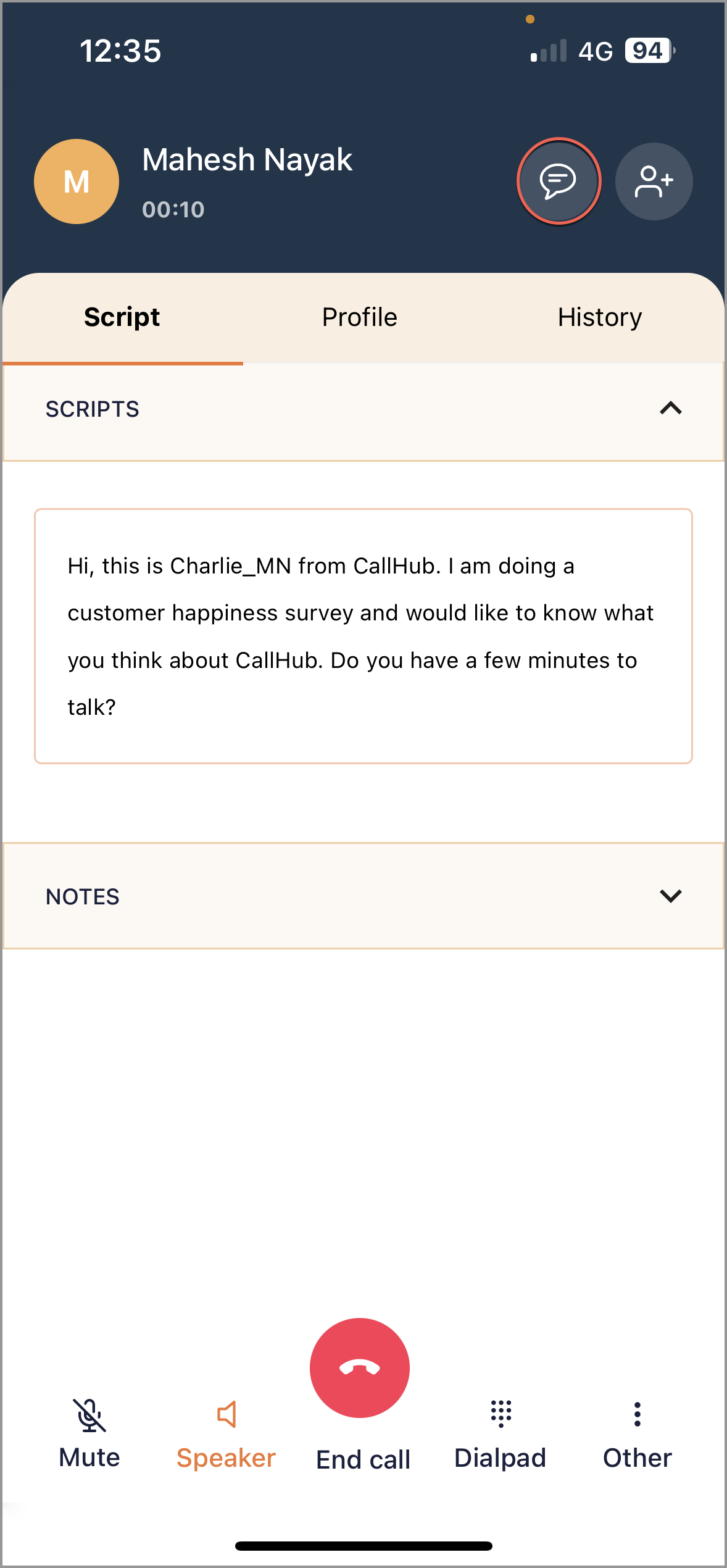 Here, you can choose to select a templated response set up by your campaign manager, or you can type and send your own message by tapping on "Send your own message."
If you wish to send a templated response, you may tap on "Use templated responses" and tap on the message snipper to send the message.
You can create your own template for this campaign by tapping on "Create new template." This template will be available only for you (as an agent) throughout the campaign.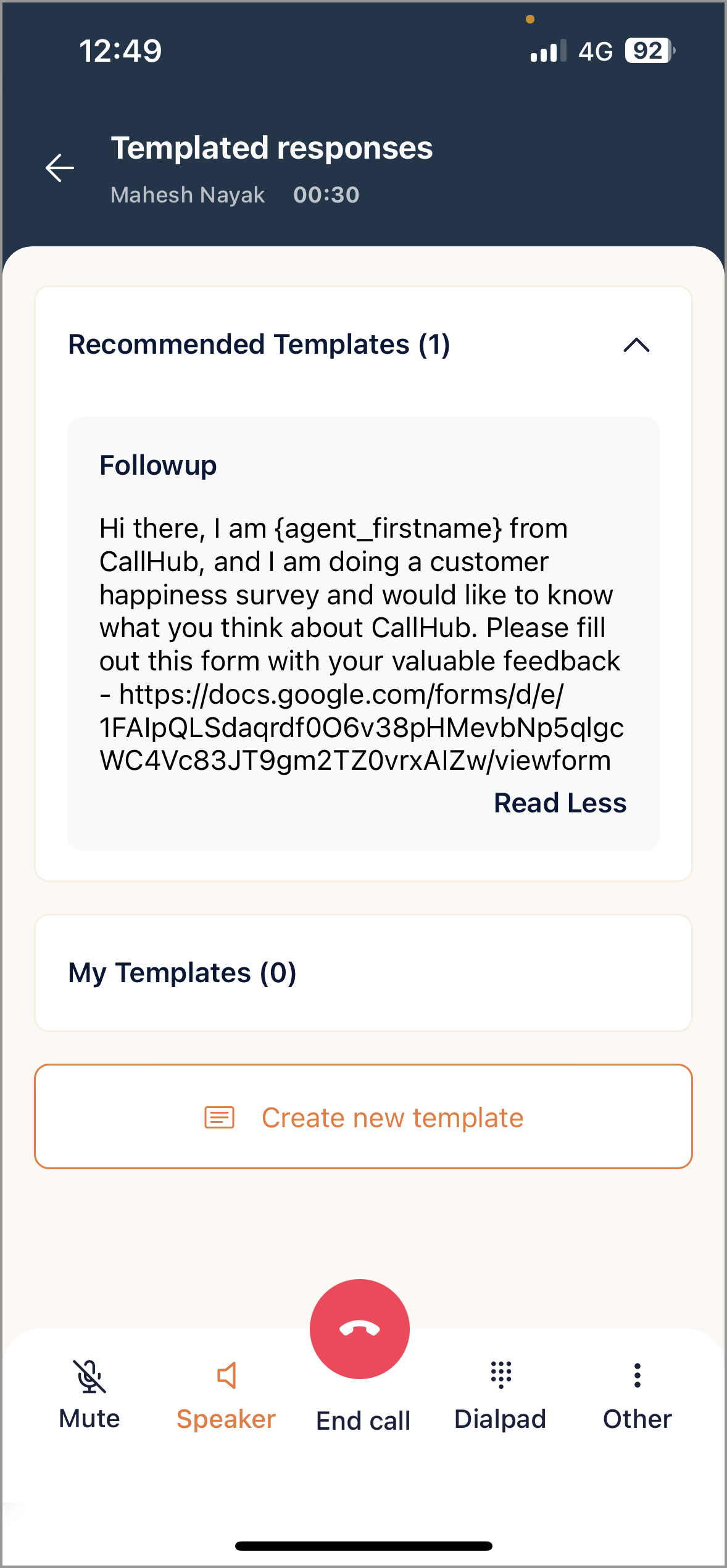 Once done, you may enter the disposition and save the notes to save the call details and move to the next call.