In this article, we're going to discuss how to use the VAN integration with CallHub. We will go through the steps of connecting to VAN from CallHub and using the integration in CallHub's campaign modules.
Things to remember before you integrate:
If you do not have an API key from VAN to connect to CallHub, you may request for an API by sending an email to

[email protected]

.
CallHub can be connected to Smart VAN from the NGP VAN section in My Voter Mode.
With "My Voter" mode you will be able to import only Survey responses and Activist codes.
Connecting to NGP VAN:
Login to your CallHub account and click on Integrations from the menu on the top of your page. From the NGP VAN integration section, click on "Connect to My Voter" or "Connect to My campaign" (usually termed as Voter Mode and Campaign mode) depending on your requirements.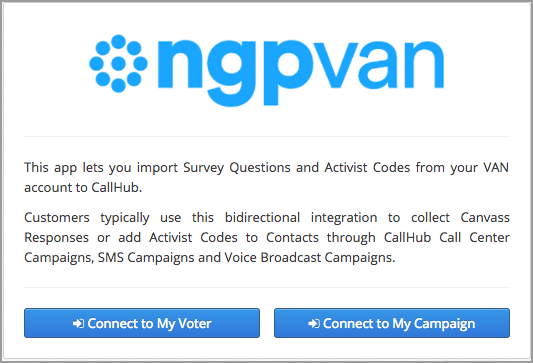 Note: You will need to submit a support ticket with VAN if you do not have an API key for VAN handy.
An example of connecting to VAN using your VAN API key is shown in the below screenshot. Replace with your API Key.

Now that you're connected to VAN, let's import contacts from VAN into CallHub. Currently, CallHub doesn't support importing contacts from VAN in an automated way. VAN users will have to export the contacts in a CSV file and then upload it in CallHub. Make sure VANID and Preferred Email columns are available when you export Contact List from VAN.
Once you're connected to VAN in step 2, CallHub creates a Custom field for you. In the below screenshot VANID103136 Custom field is created after the integration. This custom field is used to map VANID from VAN when importing data into CallHub. You will know more about mapping data from VAN to CallHub in the later steps.
Assuming you have exported contacts from VAN, convert the exported file into a CSV file (if not already) and then click on "Import Contacts" to import the contacts into CallHub.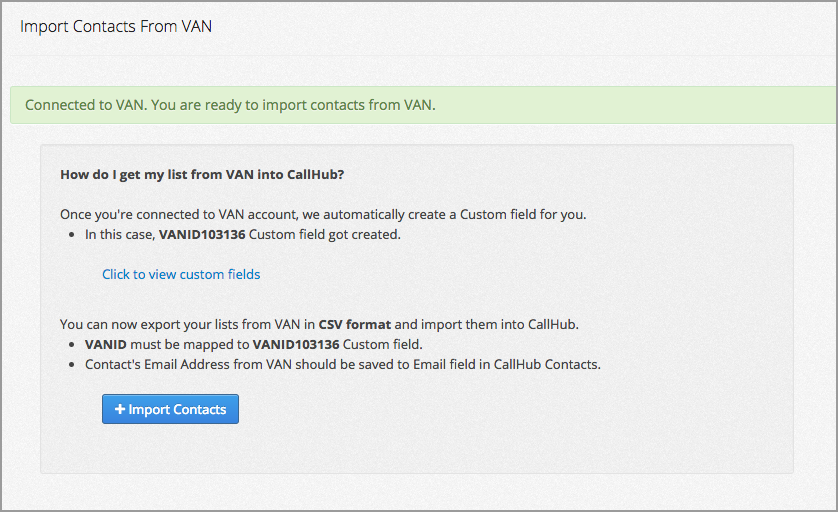 Now click on "Import Contacts" and upload your CSV file as shown in the below screenshot.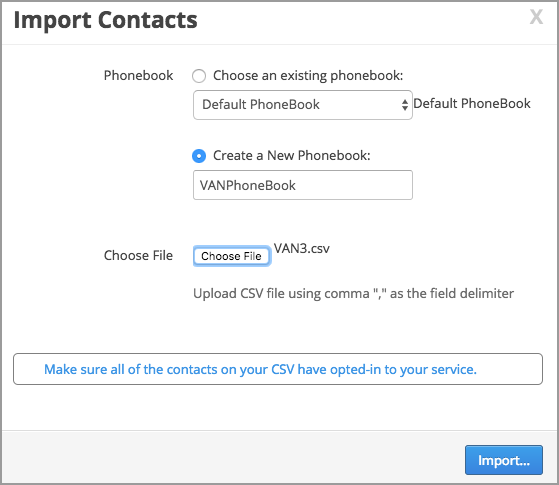 On clicking "Import..." you will get an option to link VAN fields to CallHub Contact fields. Map your VANID appropriately as shown in the below screenshot. Observe how VANID from VAN export is mapped to VANID103136 Custom Field. CallHub can sync data back to VAN contacts only if the VAN ID is correctly mapped.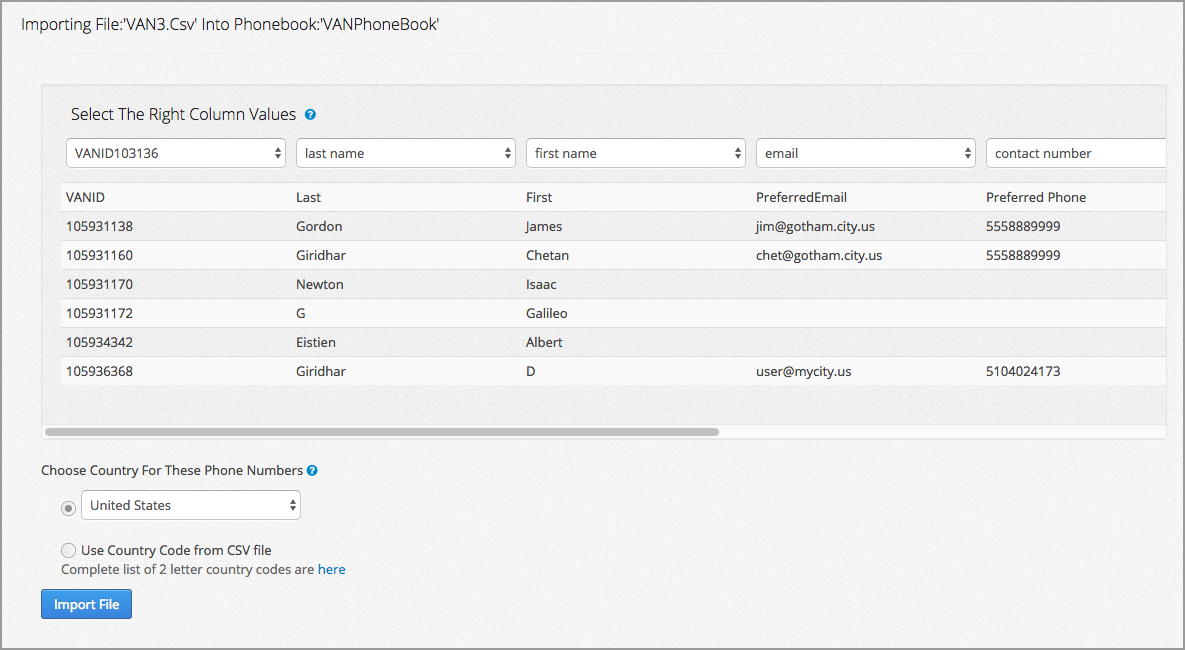 Once you have the mapped the CSV file and clicked on "Import File", CallHub will start syncing data from VAN into CallHub. CallHub will import VAN events, VAN survey questions, and Activist Codes. VAN activist codes will be imported into CallHub as CallHub tags. VAN Survey questions and Events are available in CallHub while adding the script in Call Center and Collective Texting Campaigns.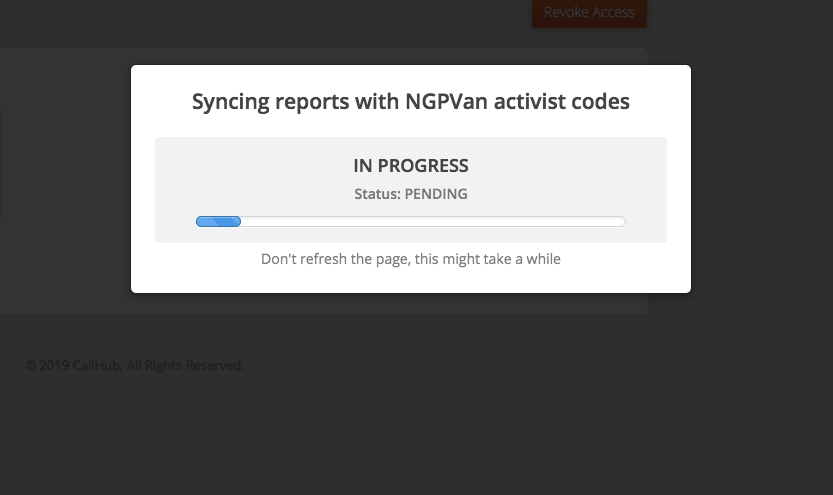 The below screenshot shows the number of Events, Activist Codes, and Survey Questions imported from VAN into CallHub. You can click on "Sync Now" to sync data from VAN into CallHub if there are new events added to VAN.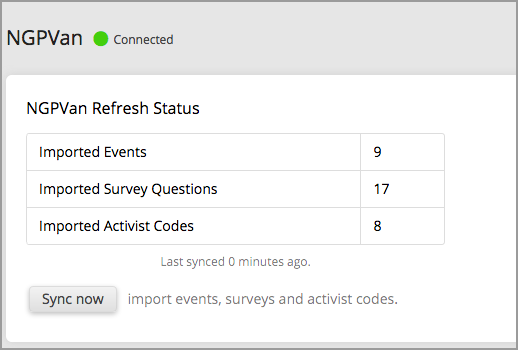 ---
Call Center Campaigns:
Collect Canvass Responses and Update Activist Codes:
When you create a Call Center Campaign, you can add one or more Survey Questions from VAN and ask volunteers (call center agents) to collect Canvass Responses during the calls when they call voters (VAN Contacts). Responses to the survey questions will flow back to VAN and you can view them in the contact's "Survey Responses" section. You can also mark Activist Codes to VAN contacts in an automated manner based on the survey response. For instance, if the response to the below survey question is "YES", the activist code "Member" will be added to the VAN contact automatically.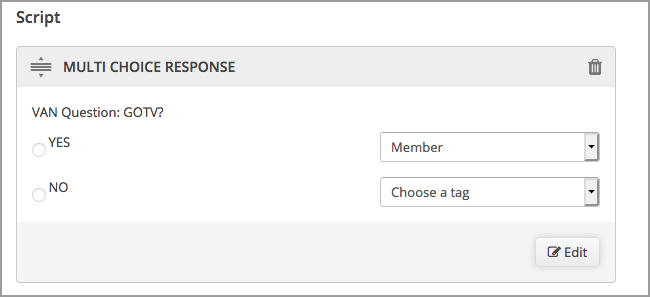 You can also choose to add Activist Codes to the VAN Contacts when configuring the Call Center Campaign.
Tagging contacts based on responses
"Tags available to agents" option lets you configure activist codes that agents can use to explicitly mark contacts based on the conversation. These have to be done manually by the agents. "Choose VAN activist code to tag all contacted people" - This option will automatically tag contacts in VAN when notes are saved by call center agents for a conversation.

Collect event RSVP's
To collect event RSVPs in CallHub, in the campaign creation flow, browse to the "Script" section. Here click on "Question" and click on "RSVP". Refer below screenshot for details

Select the appropriate VAN Event from the dropdown and add it to your script. To mark event RSVP in VAN, agents have to mark responses for all three questions. What shift is a volunteer RSVPing to, What role will the volunteer perform at the event, and what's the status of the RSVP such as Confirmed or Declined? Till the agent doesn't answer all these questions, CallHub will not be able to mark RSVP in an automated way.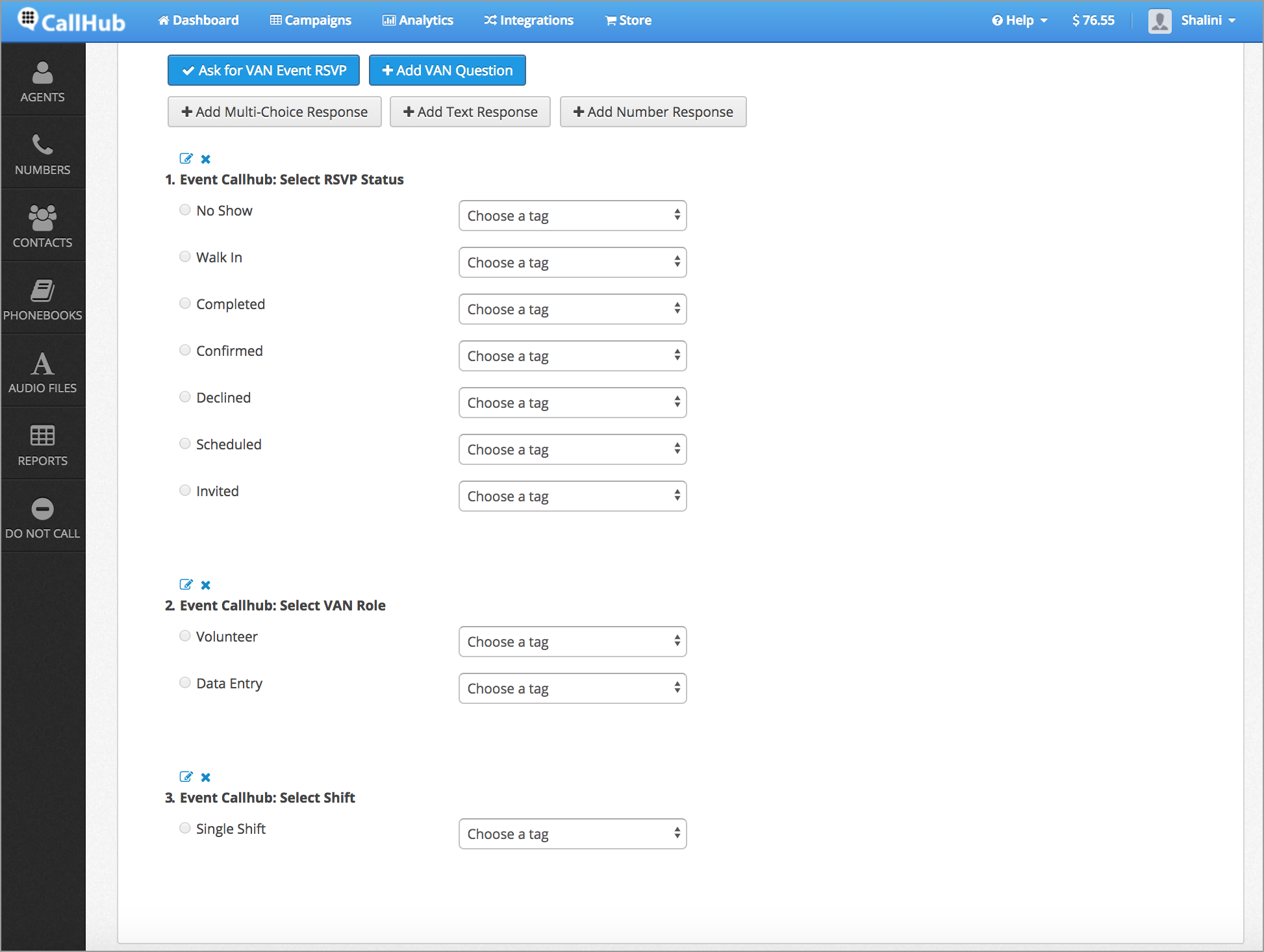 ---
SMS Broadcasting Campaign:
Activist Codes for Sent and Received Messages
When you create an SMS Campaign, you can select an imported Activist Code.
Activist Code can be configured for VAN Contacts that were contacted via SMS text message and for VAN Contacts that responded back to your SMS Broadcast Message.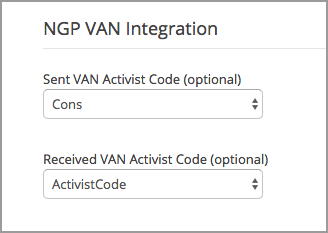 ---
Voice Broadcasting Campaign:
Update Activist Codes
When you create a Voice Broadcast Campaign, you can select an imported Activist Code. Contacts from VAN that are contacted via this Voice Broadcast campaign will be marked with the chosen Activist Code back in VAN.

Note: By connecting VAN to CallHub in My Voter mode, the event data cannot be synced or used in your campaigns.
Once you have run the campaign, the details will sync back to VAN and the details of the sync will be available in the "Activity" of the contact.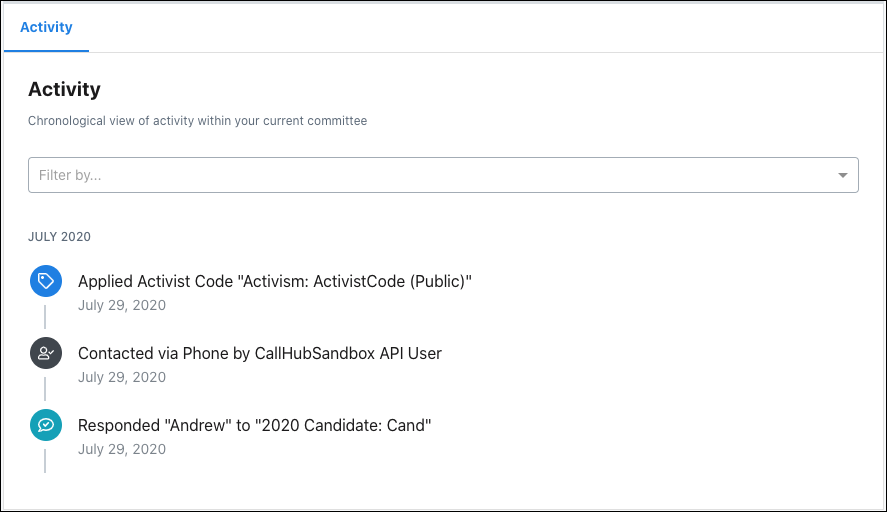 Additionally, the event RSVPs, the survey responses and Activist codes will be available in the "All Details" of the contact.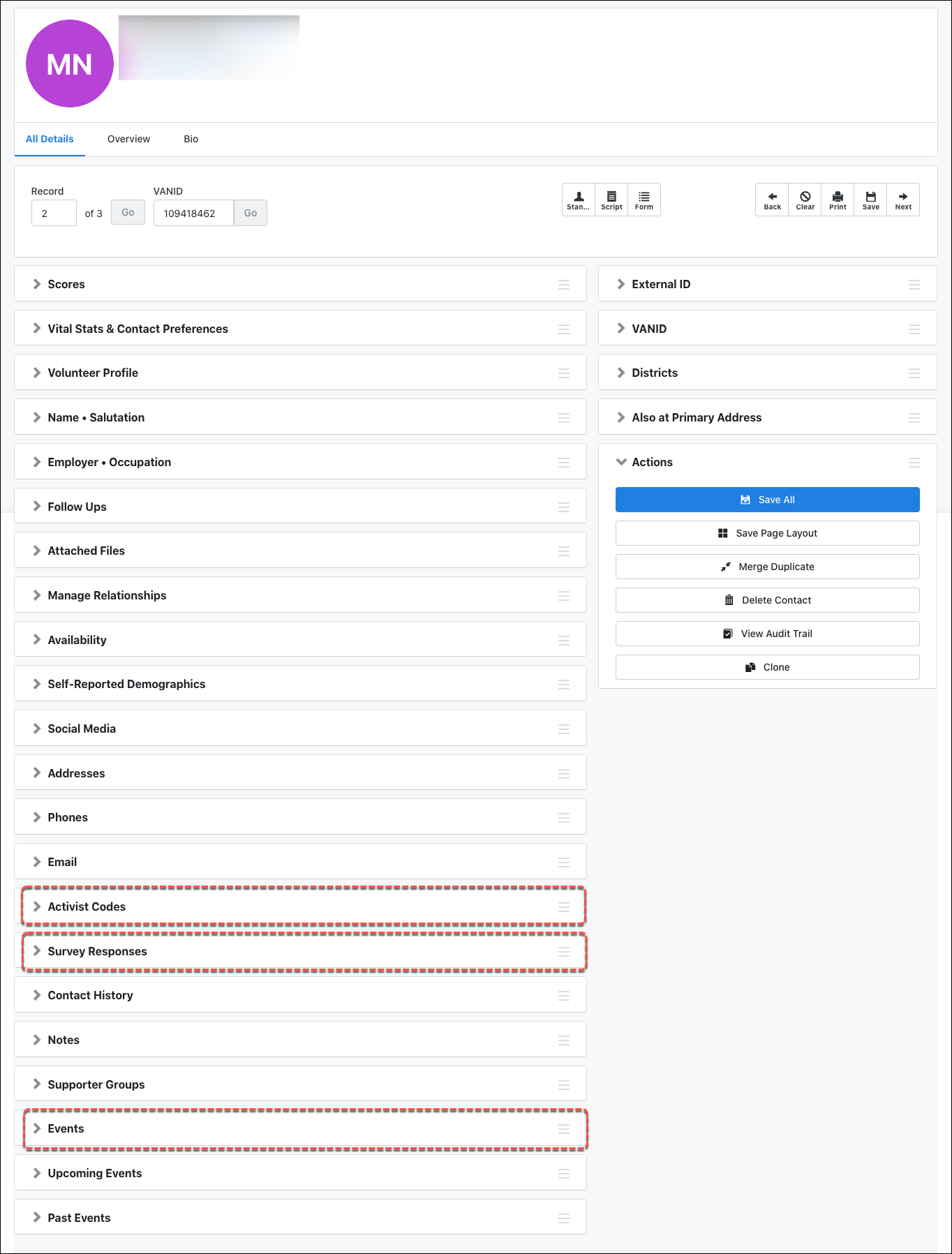 Have we missed something you were looking for? Let us know in comments :)