Automatic answering machine detection saves agents' time and helps you connect with people faster. Here's how to enable it on CallHub.
Answering machine detection, widely known as AMD, helps you determine if the calls you are connected to a human or an answering machine. AMD helps agents have a real conversation with humans and improve conversions.
AMD Technology
Answering Machine Detection (AMD) is a technology included in dialers meant to screen out calls sent to voicemail inboxes. It detects whether or not there is a live call based on three main principles:
Background noise associated with a pre-recorded message

Long strings of words such as "Hello, I am sorry I missed your call. Please leave a message…."

A live caller saying something similar to "Hello, hello?" followed by a post-greeting silence
How does Answering Machine Detection work in CallHub?
AMD comes in place after the call is connected/answered before the call is bridged to the agent. AMD system considers certain principles to determine if the call is connected to a human or an answering machine which typically takes 1-2 seconds. Based on the detection, you can achieve the following two scenarios in CallHub:
If the machine picks the call, the system can be configured to drop the pre-recorded audio file allowing the agent to move to the next call, thus saving time for the agent instead of waiting for the beep and clicking on "Drop Voicemail" manually.

You can also choose to hang up the call if the answering machine is detected.
How to enable AMD on my campaign?
Answering machine detection is available on Call Center campaigns with the Auto and Predictive Dialer. You need to enable AMD from the "Targeting" section of your Call Center campaign. You must select the "Automatically Detect answering machines" checkbox to enable AMD on your campaign.
You need to ensure that the Answering Machine Audio is selected after enabling AMD if you choose to play a pre-recorded audio file. The following link explains how to upload an audio to CallHub.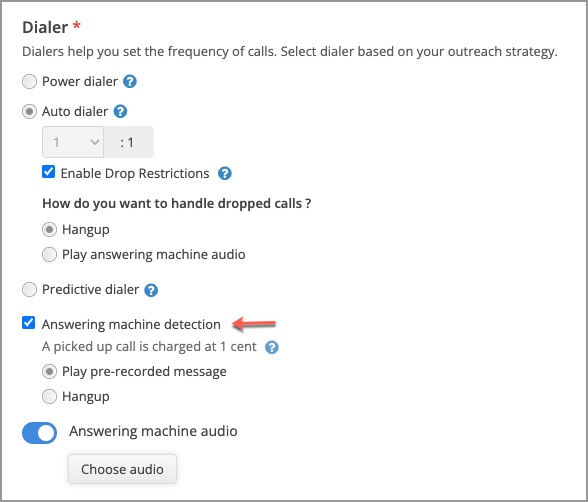 The above image shows how to enable Answering Machine Detection on Call Center campaigns.