Have your own shortcode. Reach out to a large audience with high sending rates. Boost delivery rates without getting filtered by carriers.
Dedicated shortcodes are 5-6 digit SMS-enabled numbers that an organization can use for sending and receiving messages. Compared to the Shared shortcodes, Dedicated shortcodes provide a much higher sending rate for both SMS and MMS with a good throughput and help achieve good delivery rates.
Why Dedicated shortcodes?
Dedicated shortcodes are for use by a specific organization, and no other organization has access to it. With these shortcodes, the organization has access to several keywords, unlike the shared shortcode, where multiple organizations manage the shortcode, and the traffic is identified based on a keyword. Below are a few focus points for Dedicated Shortcodes.
High Sending Rates - The sending rates for dedicated shortcodes are higher than the shared shortcodes which send 100 messages/second.
High Delivery Rates - From a recent data set, we found that the rate of deliverability is higher on Dedicated shortcodes than on shared shortcodes or long phone numbers.
Keyword Restrictions - You can select any keyword based on the subject of your campaign and use it along with the shortcode to run SMS campaigns. This improves your visibility in the field and also helps in increasing the response rates.
Trust Factor - A user can be confident that the shortcode is used only by his organization, and there is no involvement from bad players.
How do I apply for a Dedicated Shortcode?
You can apply for a Dedicated shortcode from your account's "Numbers" section. You may navigate to Numbers > Dedicated Shortcodes > Rent a Dedicated shortcode.

After clicking on the "Rent a Dedicated Shortcode," you will be redirected to the application page where you need to fill in the requested details. Then, click on "Proceed to Payment" to continue.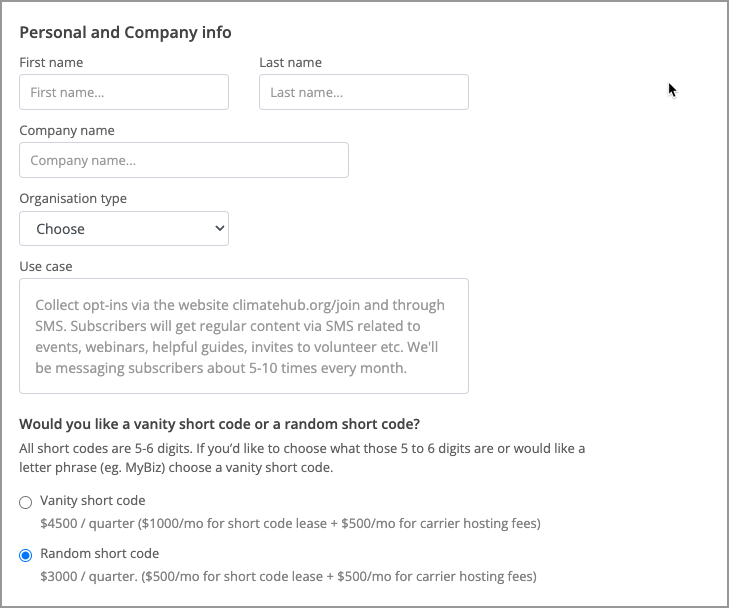 Vanity Shortcode - A shortcode that an organization specifically chooses.
Random Shortcode - A random 5-6 digit number will be assigned to an organization. You will not be able to review it before the approval.
In the next step, you will be redirected to the Payments page to complete the payment of $500. You need to make this payment of $500 as a Shortcode application fee.
Note: If you are purchasing a random shortcode, you need to pay $500 initially, and once the carriers approve the shortcode, you need to pay the remaining charges ($2500).
Once you have completed the initial payment of $500, one of our Product Specialists will get in touch with you for a few additional details that we need from you before we submit your application to the carriers. (details vary for carriers and use-cases).
You may review the status of your shortcode application from the "Numbers" tab under "Dedicated Shortcodes." Below are what each status means.
APPROVAL PENDING WITH CALLHUB - We have received your application and reviewing it before we send it to the carriers for approval.
APPROVAL PENDING WITH CARRIER - The carriers have received our application and working on setting up the shortcode.
APPROVED FOR USE - Shortcode is ready and can be used in the campaigns.
REJECTED, REFUND INITIATED - The use case for which you applied for the shortcode is not valid.
CANCELLED, AMOUNT REFUNDED - For some reason, the application was canceled and the amount was refunded back to the user.
You will receive email notifications on the status of your application to your registered email. Also, one of our Product Specialists will closely work with you until the shortcodes are approved. Click here for more details.