The CallHub application sends messages to the telecom carrier and gets message status as a returned response. Here are some vital insights.
The message error rate is the actual ratio of failed messages over the total sent messages. Different message status codes are considered a failure by the telecom carrier. Please check out the exact message error code list that we get from the telecom carrier.
CallHub is fully compliant with the Telecom Carrier regulations and has recently updated a fair usage policy to accommodate it. CallHub is a texting platform and is legally bound to ensure that customers follow the best practices to maintain the error and opt-out rates per the regulations. Telecom regulations are getting strict to stop malicious activities over the networks and strengthen good & genuine players.
Please keep in mind that the message error rate should be less than 10%, and opt-out rates shouldn't be more than 1%.
We made a few additions to provide more insights to our customers about the messaging campaign performance, like:
Text messages statuses with stats. You can check it

here

.

Insights page on the campaign dashboard.
You might have noticed a banner on your CallHub dashboard stating, "Ensure error and opt-out rate across texting campaigns are within the Fair usage policy limits to continue hassle-free usage".

We have listed all the best practices that need to follow eventually to avoid a limit breach. It's time to follow Best Practices for managing message filtering and opt-out(s).
Visibility plays a vital role in deciding the correct action line, and the insights give visibility about the exact situation. We added the insight page for our customers to provide the stats about ongoing texting campaign performance. You need to click on the "Investigate" button, and you will get routed to the Texting insights page.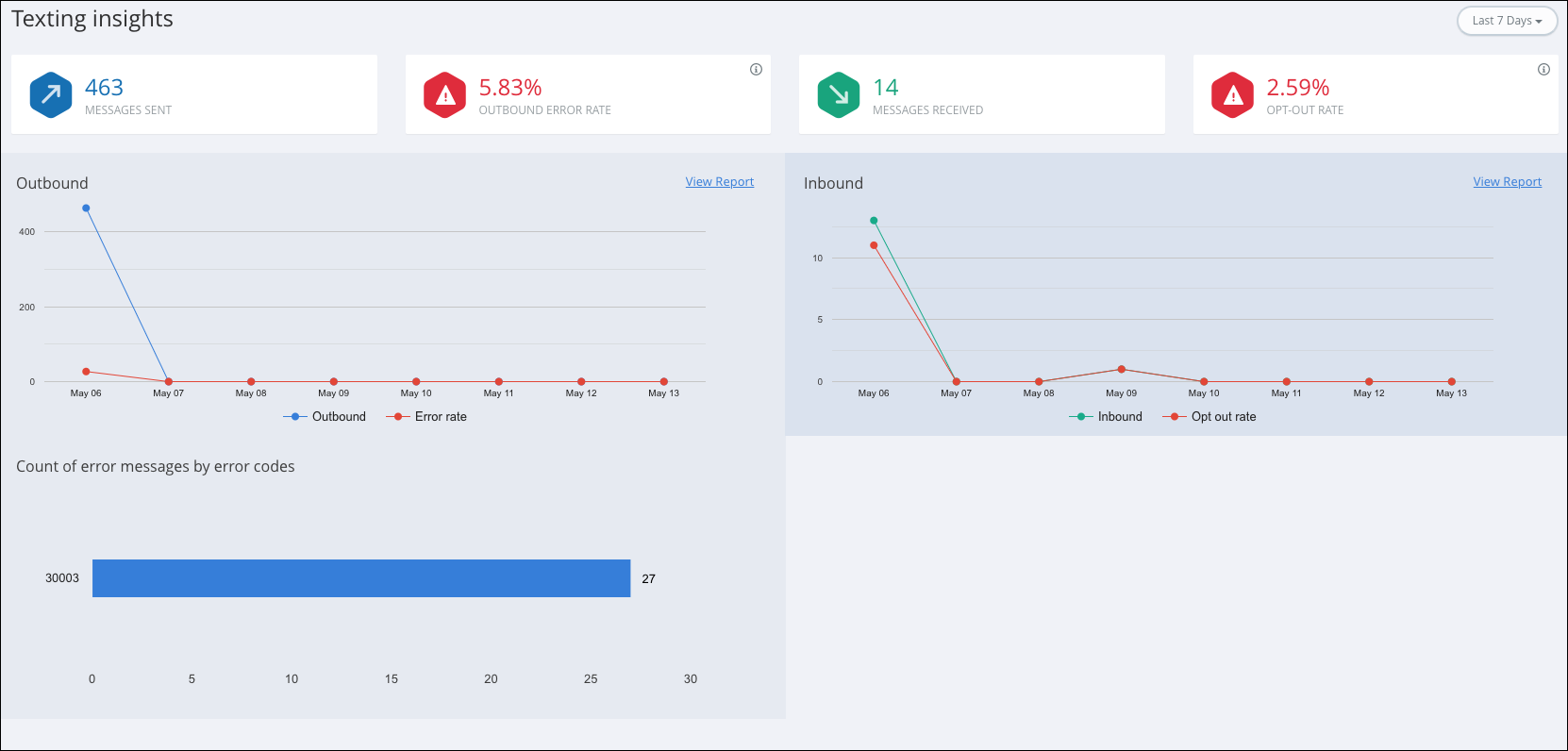 You will see the message error rate and opt-out trends for the last 7 days or 30 days(whichever is applicable) and figure out a plan of action to overcome if stats are not beyond the limit. Additionally, we have added a graph that displays the count of messages with a specific error code.
You can click on the "View Report" option to Export of list of contacts that caused these errors.