Make calls super fast to cell phones and landlines while staying compliant with FCC and TCPA regulations. Built for high-volume calling campaigns.
With an increase in usage for political campaigns, it is important to be compliant with your campaigns and ensure the efficiency of your calling activity is in place. Political campaigns contact cell phones as a part of their outreach, which may lead to issues. To ensure you do not run into problems, we have built a TCPA-compliant dialer. Click here to sign up for an account.
Note: If you are looking for an automated calling, you can switch to our parallel software at www.callhub.io/signup.
Why TCPA Dialer?
A political outreach cannot dial the contact's cellphones, or pagers without the prior consent (Opt-ins) of the contact but can only contact landlines. Basically, that's a cut in the outreach! Right? With around 60% of the world's population using cell phones, it is really despairing that we still need to call only landlines! Isn't it?
The Power Dialer and Fast Click Dialer help ensure regulatory compliance when calling cellphones or landlines. Based on scenarios, you can choose the dialer for your campaigns.
Choose the Power Dialer if you are calling an engaged list and want to ensure you don't miss a single contact. Every number on the list is dialed one after the other. Callers initiate each call with a button click after completing the previous call.
Choose the Fast Click Dialer if you are running a time-sensitive campaign and have to get through a large list. A chosen agent manually initiates calls one after the other and adds them to a queue. As soon as a call in the queue is answered by a live person, it is connected to a free caller. This way, callers spend more time talking and zero time dialing. Adjust the Max Dial rate and Max Abandon rate to optimize the Fast Click Dialer for your list.
Max Dial rate:
Max Dial rate limits the number of calls that can be initiated at a time per caller. (Eg. If you have 10 agents and a Max Dial rate of 3, the system will not dial more than 30 numbers at a time).
| | |
| --- | --- |
| Expected Pick-up % | Dial Rate |
| 80-85 | 1-4 |
| 50-55 | 5-8 |
| <40 | 9-15 |
1 - 4: For engaged lists. E.g. A list of supporters.
5 - 8: For medium-quality lists. E.g. Fast-paced calling before election day.
9 - 15: For low-quality list. Blazing fast dialing is especially suited to cold-calling old lists.
Max abandon rate:
Max abandon rate limits the percentage of answered calls that don't get connected to a caller. (eg. If 100 contacts answer the call and you have a Max abandon rate of 3%, not more than three contacts get disconnected.)
| | |
| --- | --- |
| | |
| 80-85 | 1%-3% |
| 50-55 | 4%-7% |
| <40 | 8%-10% |
Note: In case you wish to sign up for a TCPA Dialer account, you can send us a request to support@callhub.io and we will help you with the set up.
The TCPA Dialer account, which we refer to as a Manual account, includes 2 modules that are -
Peer to Peer texting Campaign
Call Center Campaign

The campaign creation procedure is pretty much the same if you have used the automated version of the CallHub account. But the automation such as Auto Dialer, Predictive Dialer, and Automated Text in CC is not included.
Call Center Campaigns:
Calls will be made using Power Dialer and Fast Click Dialer.
Follow-up messages need to be sent manually by the talker agent.
Peer to Peer Texting Campaigns:
Initial messages must be sent manually by the agent assigned to the campaign.
Call Center Campaign:
Creating a call center campaign is the same that we followed earlier. Before creating a call center campaign, please ensure to add a contact list and agents to your CallHub account. The contact list is a list of contacts that you wish to call, and agents are agents/volunteers who make the calls. The campaign creation process is carried out in 4 steps.
Script
Targeting
Agents
Schedule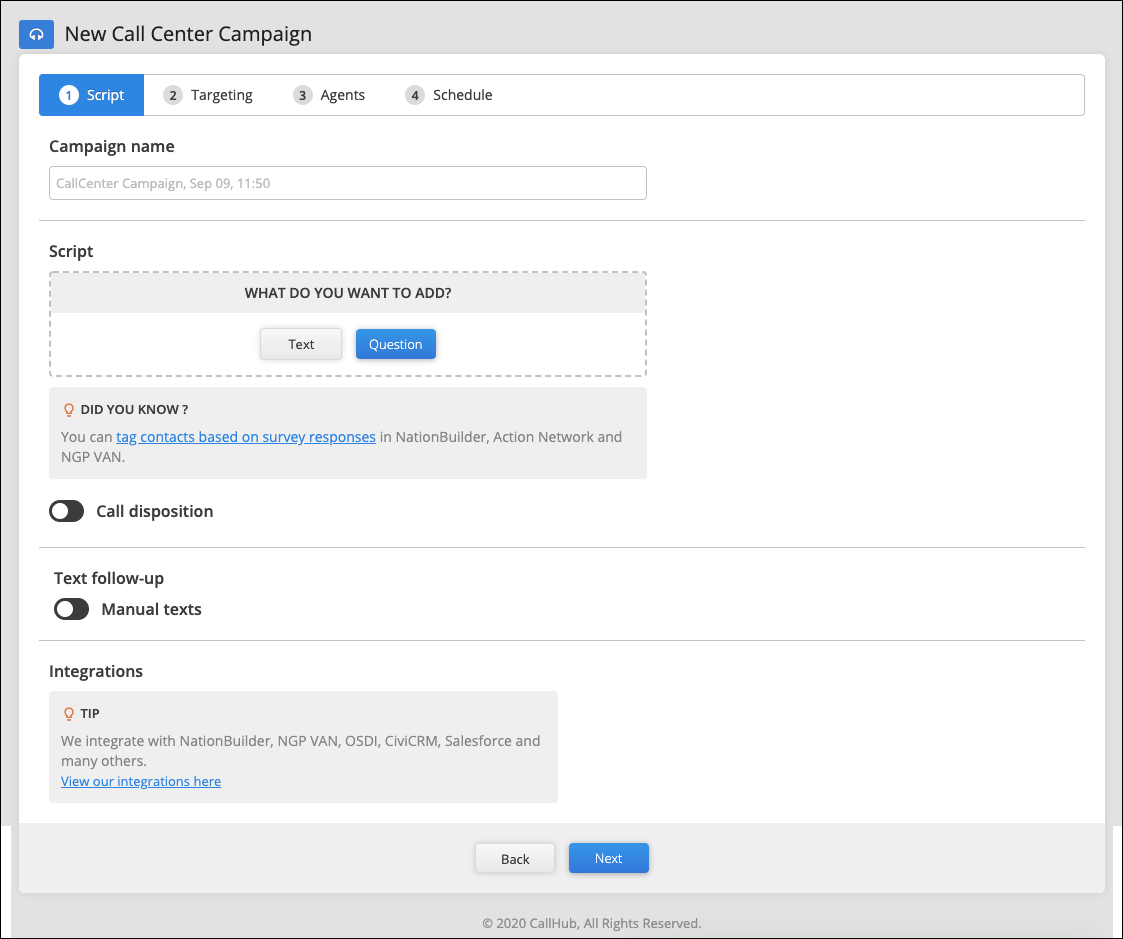 Script: In this section, you will be able to add a script/verbiage for your agents to use during their calls
Text: Here you can add your call flow as in road map to how calls will be handled from the moment your agents get connected to the end of the call.
Questions: While on the call, if agents are required to gather some information from the contacts, you can add suitable questions in the script to save this information in the form of Numeric, text or multi-choice responses.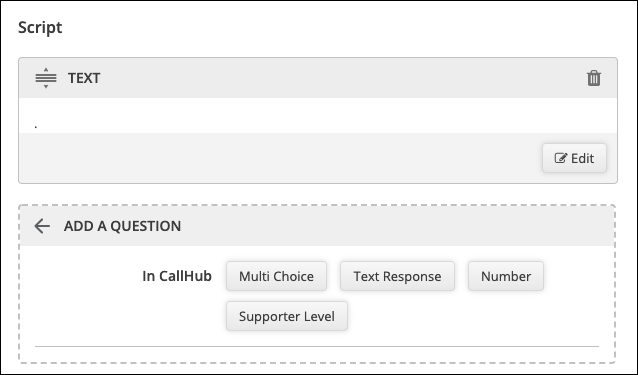 Dispositions: Call Disposition is a label that describes the outcome of a call. Based on the conversation the agent can label the call with the appropriate disposition. CallHub comes with a default set of dispositions that you can add to your campaign or if required, you can also create a custom disposition to match the requirements of your campaign.
If you wish to retry calling contacts tagged under some of these dispositions, you can select the "Retry" option next to them and accordingly the contacts will be added back to the calling list again. You can also set up the number of retries and the time interval between retries.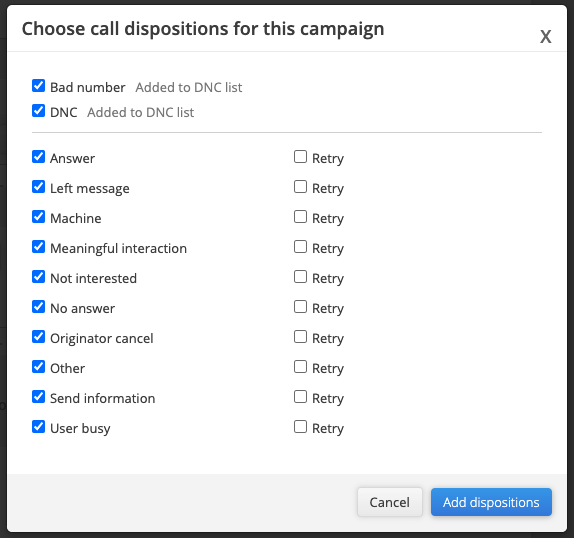 Manual Texts: The agent can send texts containing additional/important information related to the campaign during or after the call. If a cellphone number is not available for the contact, the agent can collect the number and send the details.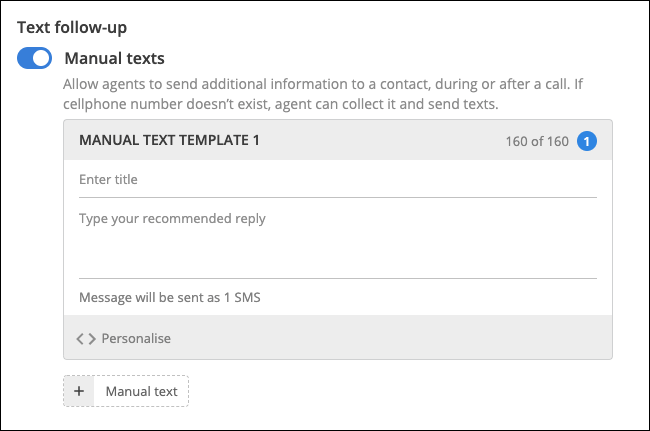 Targeting involves adding a contact list to your campaign, selecting a Caller ID and choosing what kind of Dialers you want to use in your campaign.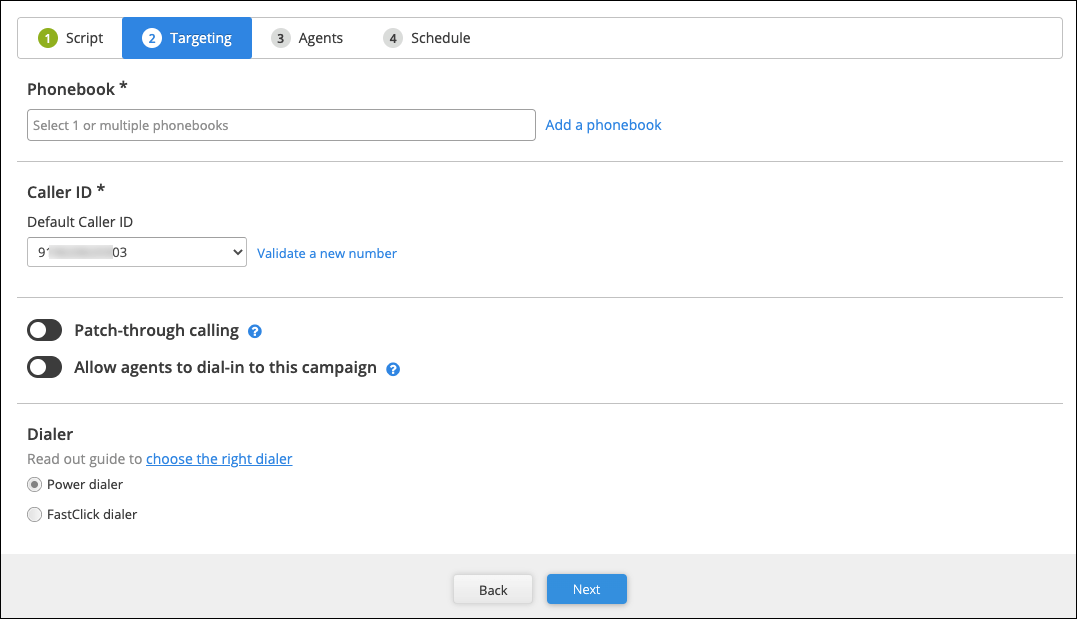 Caller-ID: The caller-id is the number displayed to your contact when they receive the call. You can select a caller-id which is already validated or you can validate a new number.
Patch-through Calling: Through Patch-through calls, agents can connect contacts to key decision-makers. As a manager, you can select a list of patch-through numbers and assign them to a campaign. This allows agents to transfer or patch-through a call only to the selected list of numbers. Alternatively, the agent can type in any number and transfer the call to them.
Dialers: Choose the right call center dialer for your requirement to optimize outbound calls. Choosing the right dialer is key to get higher agent productivity and improved operational efficiency.
Agents: In the Agents section, we will discuss how to assign agents to the campaign and what are the available steps around this procedure.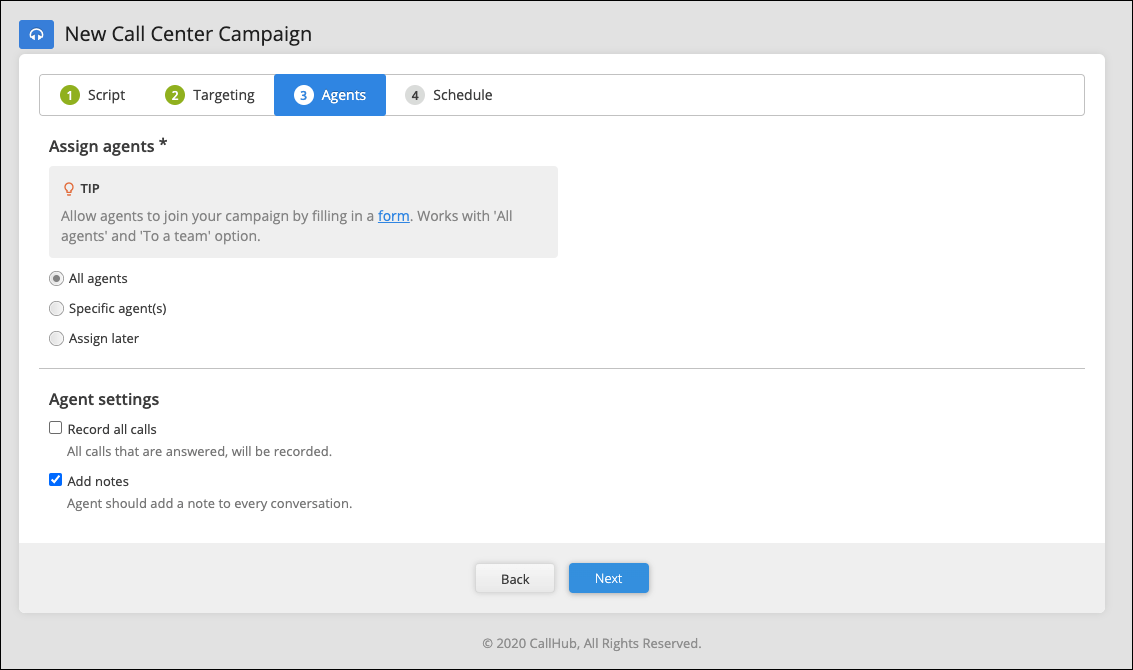 Note: Assign All agents option will add any newly created agent to the campaign by default. So if you haven't created any agent accounts, you could go with this option.
Agent Settings:
Recording - You can enable this feature if you want to record all calls. You will be able to listen to the recordings anytime after the call, for monitoring purposes.
Notes - Agents can add additional information that they have gathered in notes. By default, adding notes is mandatory, however, you can make it optional by unchecking the box beside it.
Arriving at the end of the campaign creation process, we need to Schedule the campaign. You need to set the START and FINISH date for your campaign, select Daily Operational hours and can also choose to run a campaign on weekdays or weekends or certain days of the week.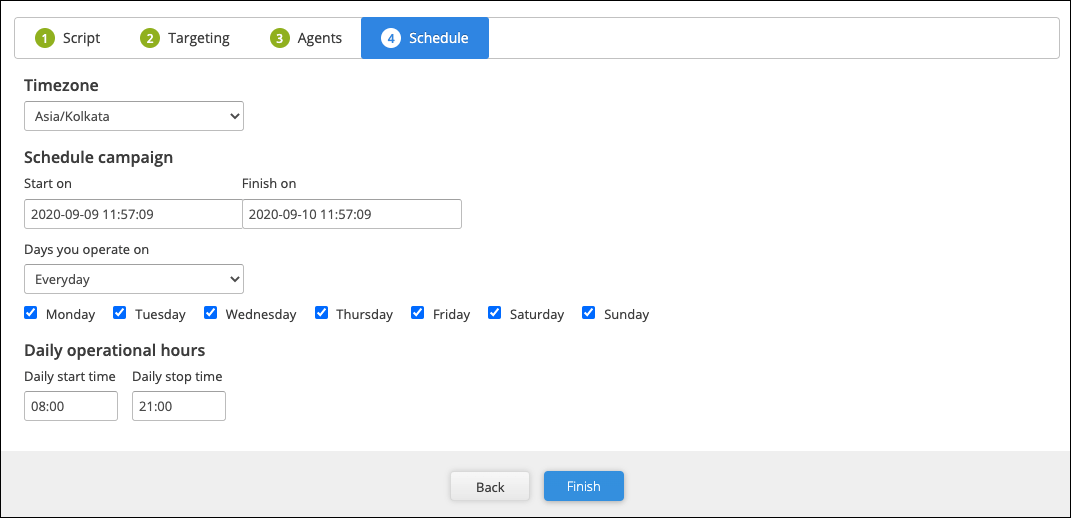 Note: Once the campaign is scheduled and you hit the "Finish" button, the campaign will go to pause state by default and you can start the campaign when the agents are ready.
Agent Section:
The agent section for a Call center campaign with the TCPA Dialer involves 2 sections.
Talker Agent
Clicker Agent
The Talker agent is the agent who will be in conversation with the contacts added to the campaign and the Clicker agent will be clicking on the contact cards to add them to the queue. We will discuss this in detail.
Talker Agent: The role of the talker agent is pretty simple. The agent need to login to their account with their username and password and click on "Join Campaign" to start making calls. A new set of contacts will be assigned to the agent once they are idle for call.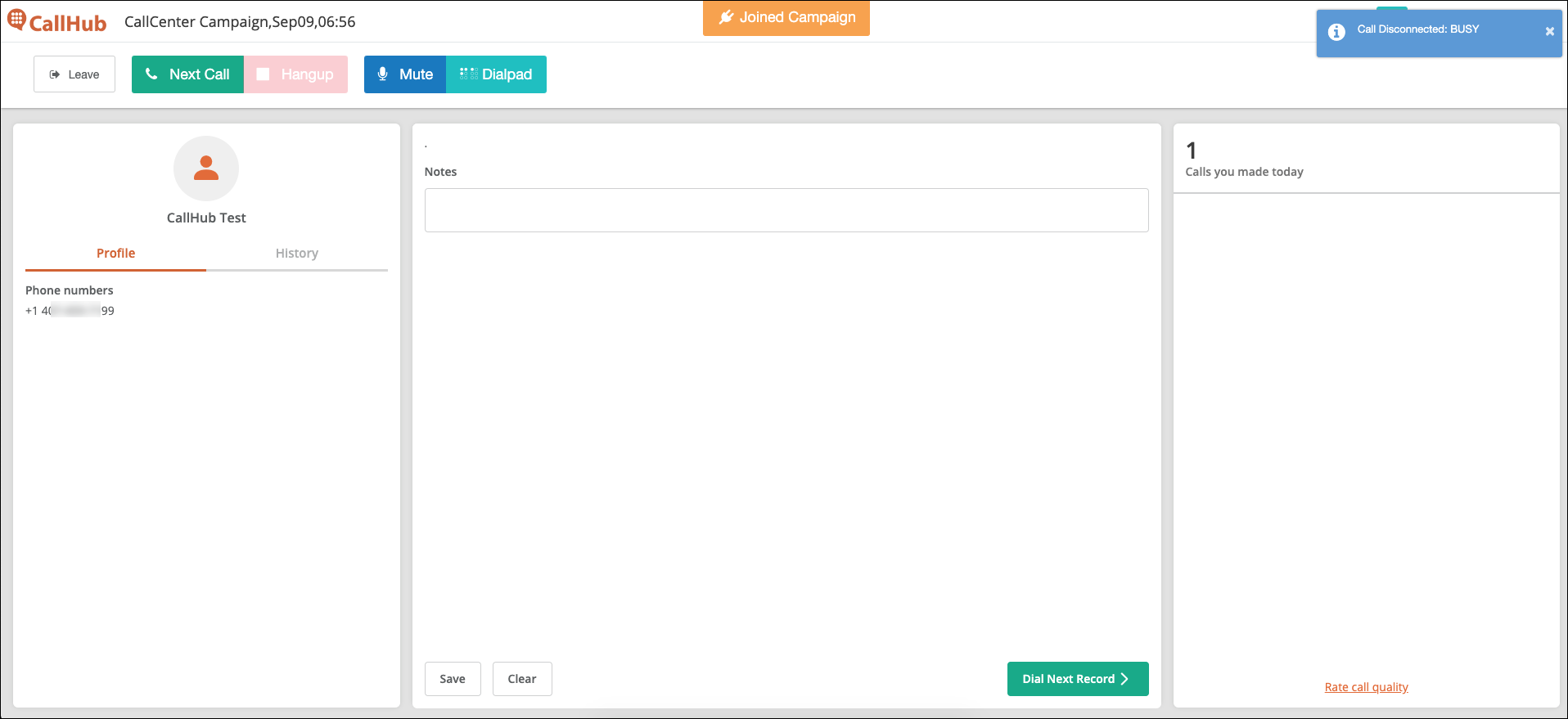 Clicker Agent: The role of the clicker agent is to click on the contact card and push the contacts to the queue.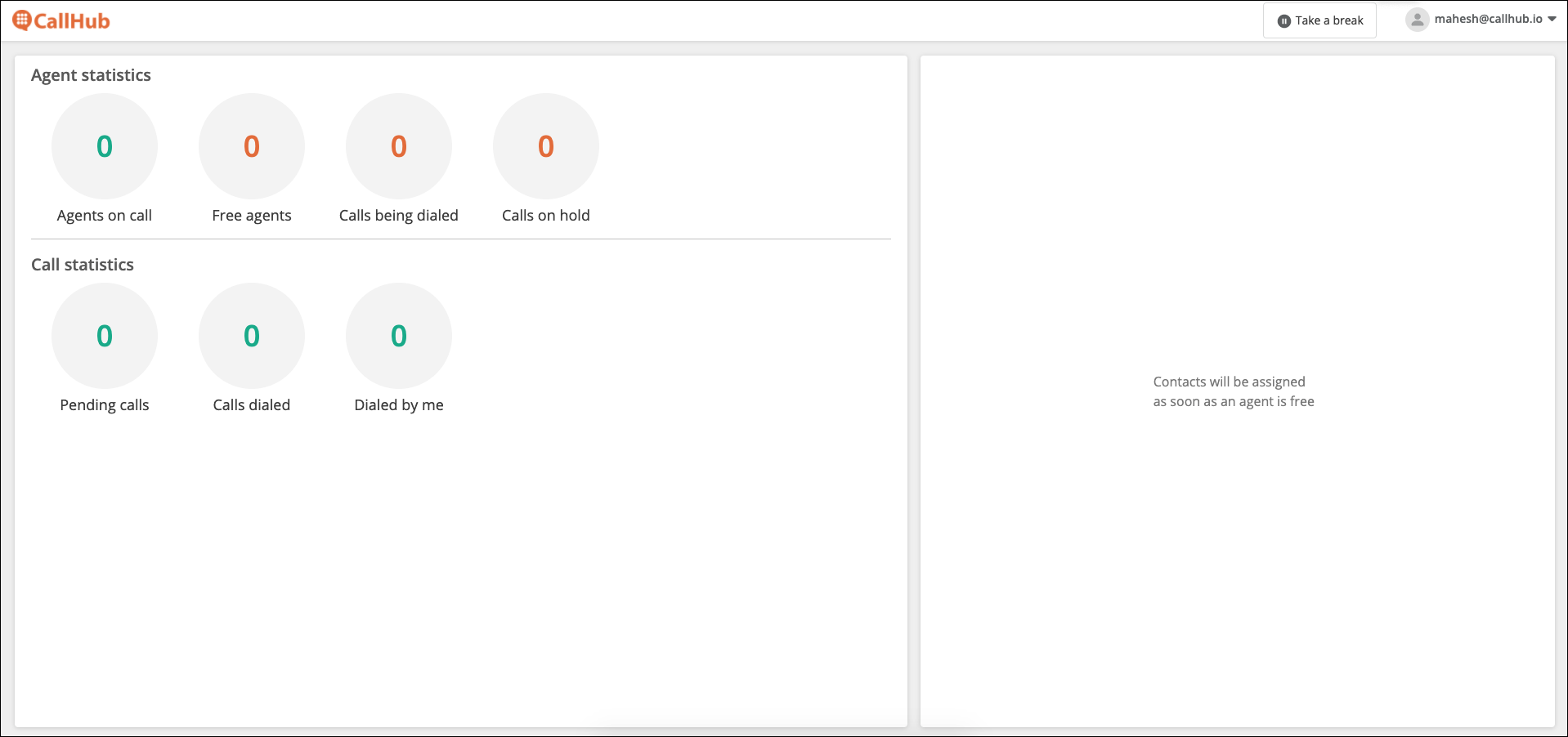 Tired of Clicking? Take a break!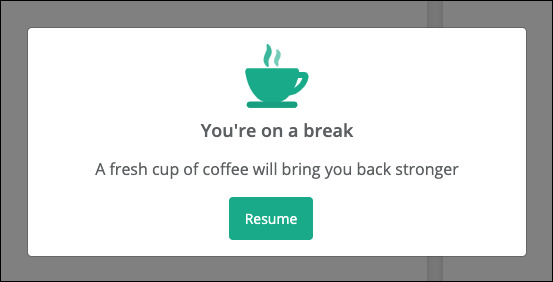 Peer to Peer Texting Campaign:
Send batches of templated text messages, with volunteers having real conversations with the recipients, and record data based on their responses. The crux of this module is sending messages to your supporters without violating regulations.
Use Peer to Peer Texting for GOTV, volunteer recruitment, or supporter engagement.
Peer to Peer texting involves both the admin account and the agent account. We will discuss both of them in this section. Click the Create button to start setting up the campaign.
Note: Peer to Peer Texting on TCPA compliant accounts do not have an automated way of sending Initial Text messages.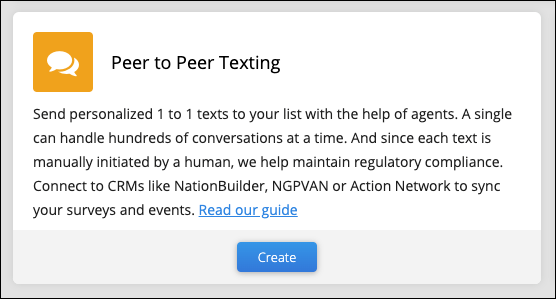 Setting up the campaign begins with naming the campaign.
The script of the campaign includes an initial message and survey questions (if any)
You may enter your message and personalize them using merge tags. Personalized messages get higher response rates and engagement. Click on the Merge tag option to find the list of tags available for the campaign. You can know more about merge tags here.
Note: Please note that the Standard SMS contains at most 160 ASCII characters or 70 Unicode characters. If you exceed the limit, you will be charged for 2 SMS.
You can use survey questions to collect data from users regarding your event. You can add Multi-Choice, Text or numeric questions based on your requirements.

You also have the option to send saved replies to ensure quick responses to your contacts.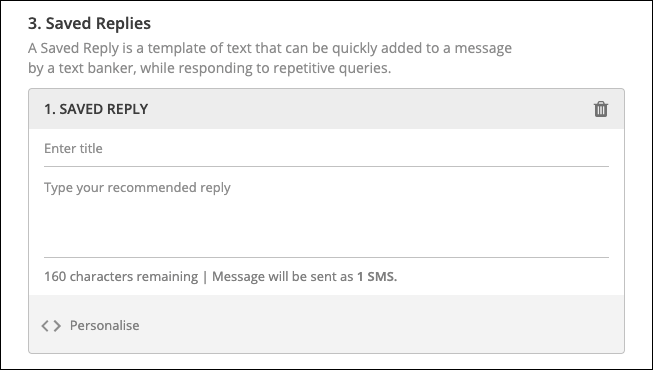 The next step is to link Contact List(s) with your campaign. You can add multiple contact lists while creating the campaign.

Caller ID refers to the phone number that your contacts will see when you send messages.
You have two options while setting up Caller ID, Automatically Rent a Number or previously rented number.
Automatically Rent a Number: With this selection, you can choose the country from which you want to rent the number for sending out messages through your campaign.
Previously rented number: You have the option to use existing numbers for your account by choosing the existing number from the dropdown.
Note: Please note that if the rented number does not show in the dropdown, it means that you have a campaign running with the same number. You need to stop the campaign first, before you can reuse the same number (previously rented number).
Assigning Agents:
You may add a message for your agents to tell them about your expectations with the current campaign.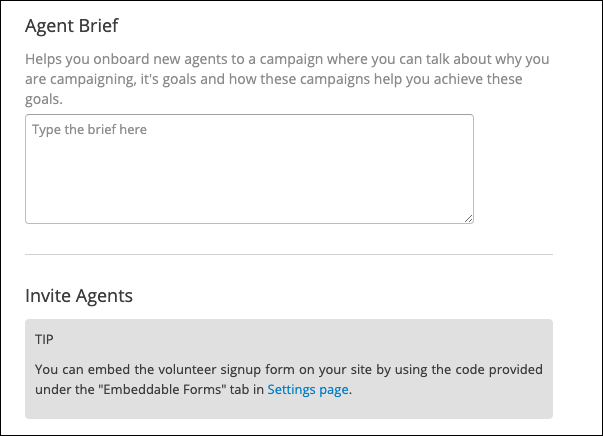 3.2 Assign agents: Here, you can choose to Assign All Agents, or Select Agents to add them to the campaign or skip the step to Assign agents later.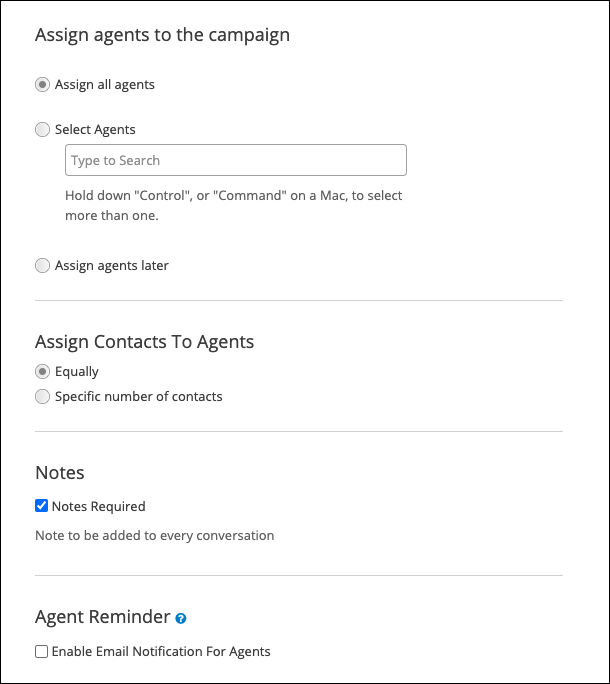 Note: Assign All agents option will add any newly created agent to the campaign by default. So if you haven't created any agent accounts, you could go with this option.
Arriving at the end of the campaign creation, you need to set the START and FINISH date for your campaign, select Daily Operational hours and can also choose to run a campaign on weekdays or weekends or certain days of the week. Once done, hit the Finish button and you are set up!