CallHub's "default agent" lets managers test campaigns and check how the campaign looks from the agent console. Here's how to access it.
CallHub provides you with a default agent account which you may use to login into the agent's console with just one click. This allows managers to check what their agents will see while working on the campaign, and they can also test the campaigns before their agents start calling/texting on the campaign.
Note: This option enables the admin of the CallHub account to log in as an agent only to the default agent account and not other agent accounts added to their account.
How to login as a default agent -
Click on the "Agents" tab in the left panel to see the list of all agents. Under actions, you need to click the "Switch to agent" button to log in as an agent.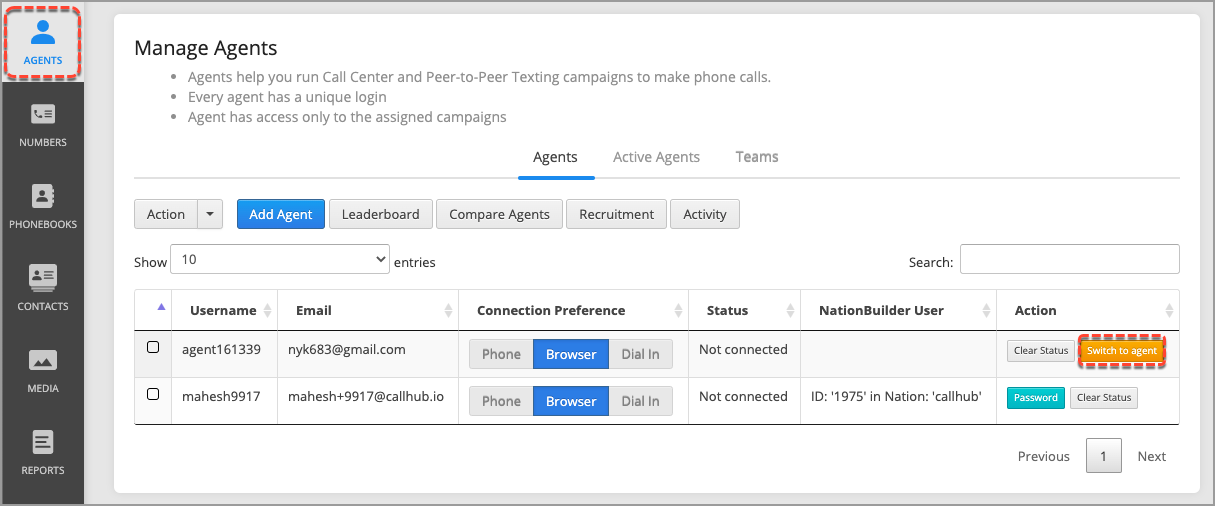 In Call Center and Peer-to-Peer Texting campaigns, you can click on the "Agent" tab and choose the "Login as agent" button to log in as a default agent.

Note: The button will be enabled only if the campaign is Started.

How to navigate back to the Admin account -
On the home page of your agent console, you need to select the option "Switch to Manager" to navigate back to the admin account.

The system creates only one default agent for an account. If the default agent account is deleted from your account, it will not be possible to recreate them or make any other agent a default agent.