You may have dropped calls in your auto-dialing or predictive dialing campaign. Here's how to recover from them and increase reach.
Calls are dropped when two or more contacts answer the call simultaneously while using an Auto Dialer or Predictive Dialer. Only one call will be connected to the agent, and the other call will be dropped. This also happens when the campaign is stopped while the calls are being dialed. All calls at the time when the campaign is stopped will be dropped. Calls can get dropped in case of auto dialer or predictive dialer where CallHub dials call in an automated manner.
How to get the list of dropped calls?
Users can check the status of each call made from the "Results" tab of the campaign. In addition, you can filter calls based on "Call Dispositions."

Another option is to export the campaign results and use filtering in the CSV file to filter calls based on dispositions. Export all call results in the "Results" tab by clicking the "Export Results" button.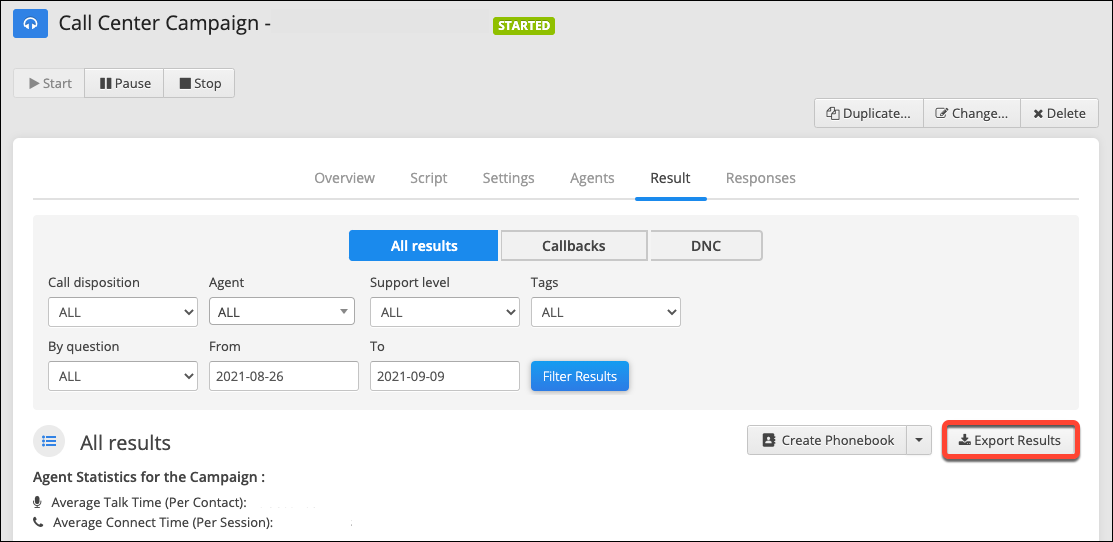 Dropped Restrictions
In the USA and Canada, if someone answers but no agent is available within 2 seconds of the person greeting, FCC regulations consider the call abandoned and require the dialer to play a recorded message. The FCC requires that Dialers abandon less than 3% of answered calls.
By default, the "Enable Dropped Restrictions" is checked if you are using Auto Dialer/Predictive Dialer in the Campaign. However, you may uncheck the box if the restrictions do not apply to your campaigns.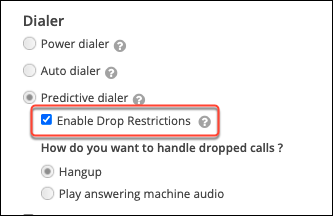 The option functions the same for both Auto Dialer and Predictive Dialer.
Handling Dropped Calls
When the drop restrictions are enabled, you may choose to Hangup calls or Drop an Answering Machine Audio.
Play Answering Machine Audio
If you wish to play an Answering Machine Audio for Dropped calls, you must ensure the audio file is uploaded to your account. Then, you may choose the option "Play Answering Machine Audio" option and choose the Audio in the next step.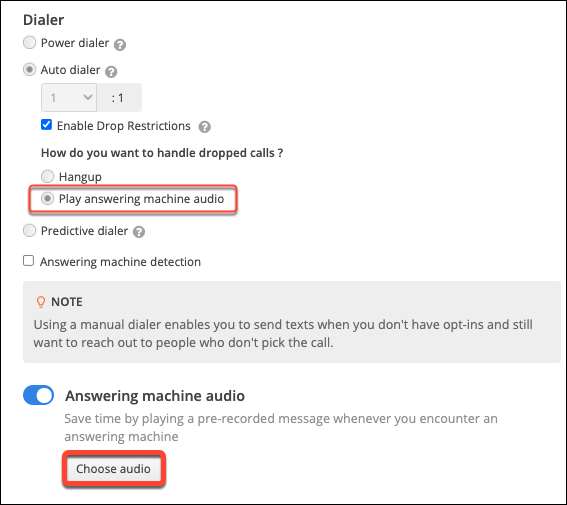 Hangup
You can choose to Hangup Dropped calls from a campaign. First, you need to select the "Hangup" option, and all the dropped calls will be Hung up.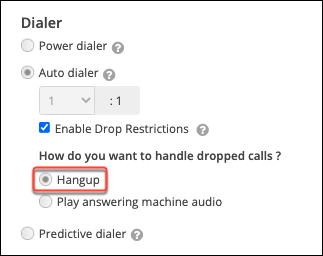 Dropped Calls result from calls being dialed in an automated manner (Auto and Predictive Dialer). If you do not want Dropped calls for your campaign, it would be best to use the Power Dialer.