Are your agents not comfortable being limited to browser-based calling or dial-ins? Boost their productivity by letting them choose how they make calls for your campaign. There are 3 connection preferences available for the agents i.e. Phone, Browser, and Dial-In.
To allow your agents to change their connection preference, you need to enable "Allow agents to change connection preference" under call center settings (Settings > Call Center).


Steps to change connection preference from agent console.
Step 1: Login to Agent console
You need to login at Agent console from this link using agent username and password.
Step 2: Navigate to settings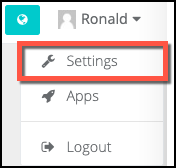 Step 3: Select the option from "Connection Preference" from the drop-down.

Once selected, save your settings and refresh the agent console for changes to take effect.
Note: Agents can also select their connection preference while activating their account
Please feel free to post your feedback on this article below.
The CallHub support team is always on their toes to help! If it is still off base to your search, please submit your ask at our Create a Ticket page. Happy calling with CallHub Mobile App Android | iOS
Don't have a CallHub account yet? Get a free one now along with $3 credits to test out.