Are your agents not comfortable being limited to browser-based calling or dial-ins? Now let them choose how they make calls for a campaign.
There are 3 connection preferences available for the agents i.e., Phone, Browser, and Dial-In.
To allow your agents to change their connection preference, you need to enable "Allow agents to change connection preference" under call center settings (Settings > Call Center).

Steps to change connection preference from agent console.
Step 1: Log in to the Agent Console
You need to log in to the Agent console from this link using the agent username and password.
Step 2: Navigate to settings.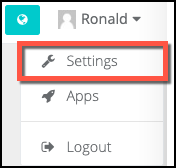 Step 3: Select the option "Connection Preference" from the drop-down.

Once selected, save your settings and refresh the agent console for changes to take effect.
Note: Agents can also select their connection preferences while activating their accounts.