We have automated the CallHub system to allow you to purchase the Subscription Plans from your dashboard with a few clicks. Earlier, the process was manual and took a lot of time to discuss the plans, sign the contracts, and set up a subscription for a customer. Now, you have it all in one place!
Let us have a deep understanding of what credits are free, and how long can the credits be used/held on your account.
With the introduction of Subscription Plans, the credits on CallHub are differentiated into Recharge Credits and Free Subscription Credits. Listed below are the complete details on what Recharge Credits and Subscription Credits are.
Recharge Credits -
On opting for a Lite Plan during the signup, the CallHub system will add $3 credits to your account to test the system.
To use the system further, you need to recharge your account from the Billing section by entering your card details. The credits added with this recharge are Recharge Credits.
Any payment made to your CallHub account apart from the Subscription Plans is Recharge Credits.
Minimum Top-ups ($25, $50, ...) come under Recharge Credits.
Recharge Credits have unlimited validity.
Recharge Credits are completely refundable. Before we refund them, we just want to know why you are leaving :(
Free Subscription Credits -
On purchasing any of the subscription plans, Premium features that are applicable as per the plan are enabled, and free credits worth the purchase is added to your account. These credits are termed Free Subscription Credits or Free Credits.
With these plans, you are paying for the Premium features included in the plan and not the credits.
Free credits added as a part of the Subscription plans are Non-refundable.
Free credits are available on your account only until the subscription plans are active. If your plan is renewed for the subsequent period, the left-over credits from the previous cycle are carried to the current cycle.
If you wish to downgrade your plan, please ensure you utilize the credit balance that is added through the Subscription plans. The unused free credits will expire at the end of the subscription cycle.
Click here for steps to downgrade your subscription plan.
The below table gives an overview of what is included with the Lite Plan and the Subscription Plans. For complete details on the plans, click here.
Features
Pay as you go Plan
Subscription Plans

Type
Lite
Essentials
Scale
Dialers
Power Dialer
Power, Auto, and Predictive
Power, Auto, and Predictive
User-roles
NA
NA
Yes
Sub-accounts
NA
NA
Yes
First Response
12 hrs
6 hrs
4 hrs
Free Credits
$3 on sign-up(one-time)
$200/month on purchase
$500/month on purchase
Credits Type
Recharge
Free
Free
You are entitled to a refund only if you have made a manual purchase of credits (Recharge Credits). In such cases, the system will display the number of credits that are refundable under the "Credit Summary" section. We will refund that amount on request/cancelation of the account.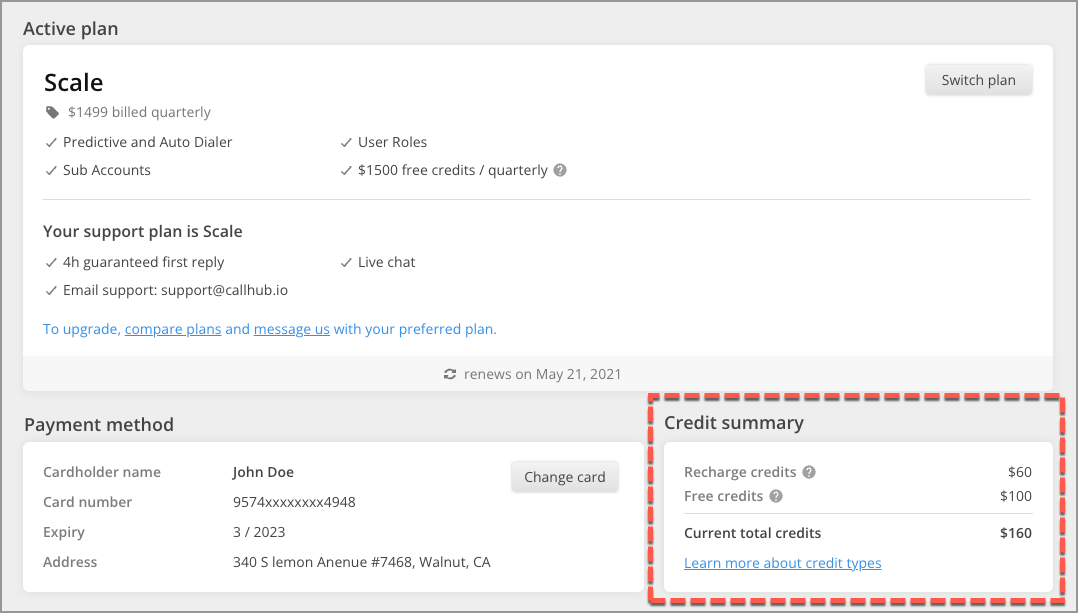 For more information on Subscription Plans, you may reach out to the Support Team at support@callhub.io or https://support.callhub.io/
The CallHub support team is always on their toes to help! If it is still off base to your search, please submit your ask at our Create a Ticket page. Happy calling with CallHub Mobile App Android | iOS
Don't have a CallHub account yet? Get a free one now along with $3 credits to test out.