While submitting the 10DLC details for your Brand and use case, you must ensure the details you provide are the same as displayed on the records. If the information on the database or registry does not match the information you have submitted, your use case is likely to be rejected.
Below are the possible reasons for use case rejections by the Campaign Registry:
Use case name - The name of the use case should be relevant to the Brand name or the website. If both do not match, the use case is likely to be rejected.
Website content - The content on the website/services provided should be relevant to the Brand vertical and the use case selected during the 10DLC submission.
Sample Messages - The sample messages should be self-explanatory and should include adequate information about the services you provide/offer. 
Content Attributes - If you have selected a specific attribute, you must ensure the attribute is utilized in the campaign. For example - if you have selected Embedded links as "Yes," then your sample messages should include Embedded links.
Call to Action/Message Flow - You need to describe the exact way the contact Opt-ins to the campaign or your service.
Privacy Policy - Your website should have an appropriate Privacy Policy for your users. 
Website Form for Opt-ins - Your website's contact or Opt-in form should include the Opt-in/Opt-out language along with the Privacy Policy.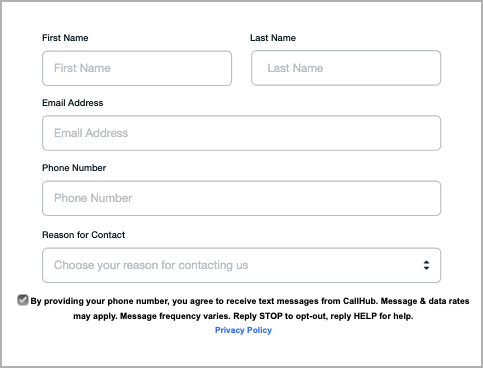 If one of them is missing, the use case is likely to be rejected. It is advised to have a standard Opt-in language as below. 
☑️ By providing your phone number, you agree to receive text messages 
from <your Brand name>. Message & data rates may apply. Message frequency 
varies. Reply STOP to opt-out, reply HELP for help.
If your use case is rejected, please get in touch with the Support team to know the reason for the rejection, and we will work with you to resubmit the use case to the Campaign Registry once you have made the changes.